Never Too Late To Turn Things Around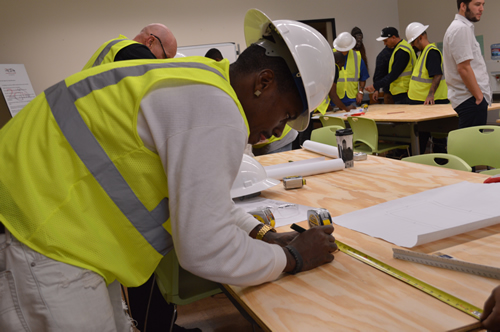 Growing up in Watts, Mike Brown's childhood coincided with the 1980's crack cocaine epidemic that ravaged South Central Los Angeles. His neighborhood ruled by street gangs, Brown saw few possibilities to survive beyond a life dealing drugs.
For most of his first 31 years, he followed a deadly path. Like many of those with whom he traveled, Brown spent more than half of his life incarcerated on numerous drug and petty crime charges. Then, a year ago, his life began to change.
An instructor in one of his court-ordered anger management courses saw something in him, and convinced Brown to enroll in a carpentry apprenticeship preparation program at the Flintridge Center in Pasadena. The program includes case management services,  life skills and employability training, hands-on volunteer work with Habitat for Humanity and visits to work sites.
Funded by the U.S. Department of Labor, the center helps youths and adults who were once incarcerated, former gang members and those at-risk of becoming either to acquire the skills needed for careers as construction trade workers. Each year, more than 500 individuals turn to Flintridge to transform their lives and become self-sufficient contributors to their communities.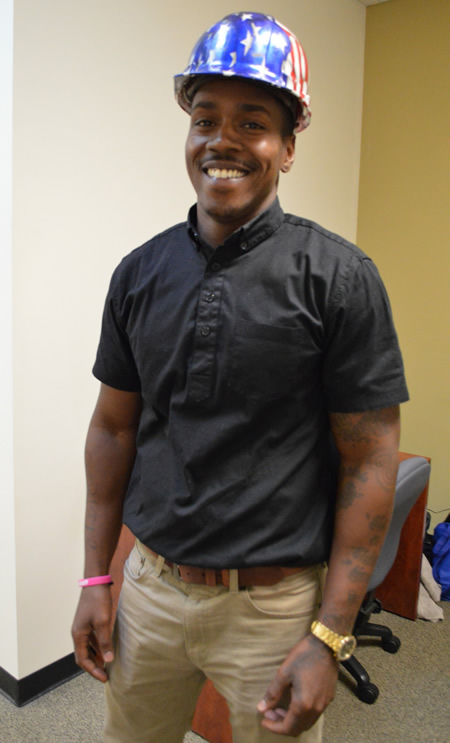 At the center, Brown said he learned basic skills for using hand tools, along with math and measurements. The program wasn't easy, he acknowledged. Instructors reminded him consistently that he was doing the right thing because he was doing it for himself. The center instilled in Brown the belief that, "You never say try. You just go out and do it."
The most valuable lessons, he said, helped him regain his self esteem – a tall order for a child once shuttled between foster homes about every year before even beginning kindergarten.
That renewed sense of worth, combined with his determination to succeed and relentless support and encouragement from the program instructors, landed him a job with a local carpentry union two weeks shy of his graduation in the fall of 2016.
At his graduation ceremony at Pasadena City Hall, Brown was asked to speak. He marveled at the size of the audience and noted how many law enforcement officers came to applaud the graduates. "I had never been around that many police without being in trouble," he quipped.
In his speech, he shared his take on his budding career as a carpenter. "I've never done this much work before, but I've never felt this good about doing this much work, either. It hurts and it hurts so good. I feel like nothing can stop me now." He also summed up how much the Flintridge program meant to him, "It's more than just a dream coming true. It's life coming true."
His speech left few in the crowd with dry eyes. One of the officers in attendance later approached him – offering the new graduate his card and any assistance he could to help the aspiring apprentice to adjust to his new life. 
These days, Brown is learning carpentry skills needed for structural concrete engineering work during construction of the highly anticipated Banc of California Stadium near to the Los Angeles Coliseum. Upon completing his apprenticeship, he looks forward to becoming a qualified journeyman.
A guy who remembers childhood as a time when he "lost everything he had every year," and later survived life on the some of America's most dangerous streets, Brown has hopes for the future. Buying a house and retiring after a useful career are in his plans. "I love being a productive citizen," he said. "I saw a gleam of light at the end of the tunnel and went for it."
Mike Brown also has a message for others who may have once taken the wrong path. "It's never too late. Whatever you've been through, you can still turn your life around," he said. 
Editor's note: The "DOL Working for You" series highlights the department's programs in action. View other blog posts in the series here.
Leo Kay is regional director in the department's Office of Public Affairs in San Francisco.