With Some Help, Vet Leaves Homelessness Behind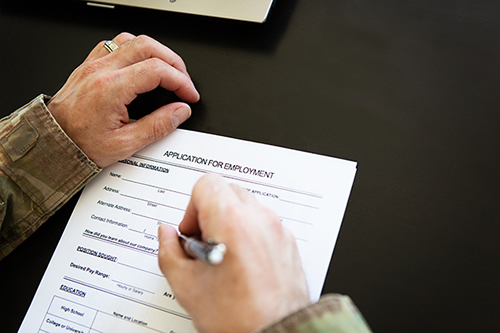 On a bitterly cold Jan. 27, 2017, Army veteran Rodney Taylor left his makeshift tarp shelter in a rural Mt. Vernon, Illinois cornfield, to check out a veterans' job fair hosted by the Illinois Department of Employment Security. When he walked through the doors, Taylor did not allow his rough appearance to temper his unwavering resolve to move forward with his life.
A layoff from his job at a small engine repair shop in the fall of 2016 left Taylor unable to pay his rent. Eviction soon followed, leaving Taylor and his wife homeless. While his wife stayed with relatives, he survived with help of friends at the local American Legion chapter. Friends there told him about the Illinois Department of Employment Security's first Job Club for Veterans to be held in Southern Illinois. His buddies encouraged Taylor to attend the event, funded by the U.S. Department of Labor and staffed by the department's Veterans' Employment and Training Service.
"Before this, I really didn't know about the type of help available to veterans," said Taylor, who served in the Army from 1982-1988, "The VETS staff sat down with me and helped me out with everything. I am so grateful."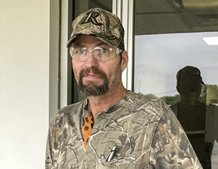 Within in a couple of days, IDES VETS staff members Catherine Matyas and Timothy Scarbrough helped Taylor get accepted as a resident at the Hope House Shelter in Salem. The next day, when he returned to state's employment security offices, Taylor was unrecognizable to the staff there – he was clean-shaved and looked rested. He was so grateful for their assistance he vowed to secure employment within 45 days.
Taylor and the staff quickly went to work, writing a resume and submitting it to an area temp agency for consideration by Schutt Sports Manufacturing, a long established Salem-based manufacturer of football helmets and other sporting goods. A company representative explained they had no current openings, but promised to call Taylor when one became available.
"I decided to stop in there the next day," the determined veteran recalled. "They had just had a job come open, and I started as a production line operator within a few days. In about a week, I went from being homeless to having a place to live and a job. I could not have done it without the help of the VETS staff."
Taylor impressed his new employer so much that in just a few weeks, he became a lead operator at the facility. That success allowed his wife to rejoin him in their new apartment near his job.  These days, Taylor is working hard and focused intently on the training he needs to be eligible for new opportunities and promotions at the company.
"I need to be successful," he explained. "I try to put 200 percent into everything I do. That's something I learned as a child, and the Army reinforced that. My determination has always been my strength."
Editor's note: Learn more about services available to veterans. The "DOL Working for You" series highlights the Labor Department's programs in action. View other blog posts in the series here.
Rhonda Burke is a deputy director of public affairs for the department