Put Your Social Media Skills to Work
Do you follow any of your favorite brands on Instagram? Ever checked into a restaurant on Facebook? Tweeted at a company or government office about a customer service issue?
Social media is not only a tool for people to keep in touch; it has also become an important way for businesses, government and organizations to reach wider audiences. It provides a dynamic avenue beyond radio, television and other traditional forms of advertising to interact with clients or consumers directly.
Someone who has the right social media instincts can turn those skills into an exciting career. Let's take a closer look at some of the occupations that involve social media:
What do these jobs look like in real life? A public relations specialist might be hired by a client to orchestrate an event amplified on social media to generate interest in a new product. A restaurant may alert popular local social media accounts about their new menu, or a corporate social media account may interact with people to solve customer service issues. Organizations can then conduct research to see if the social media outreach was effective or not.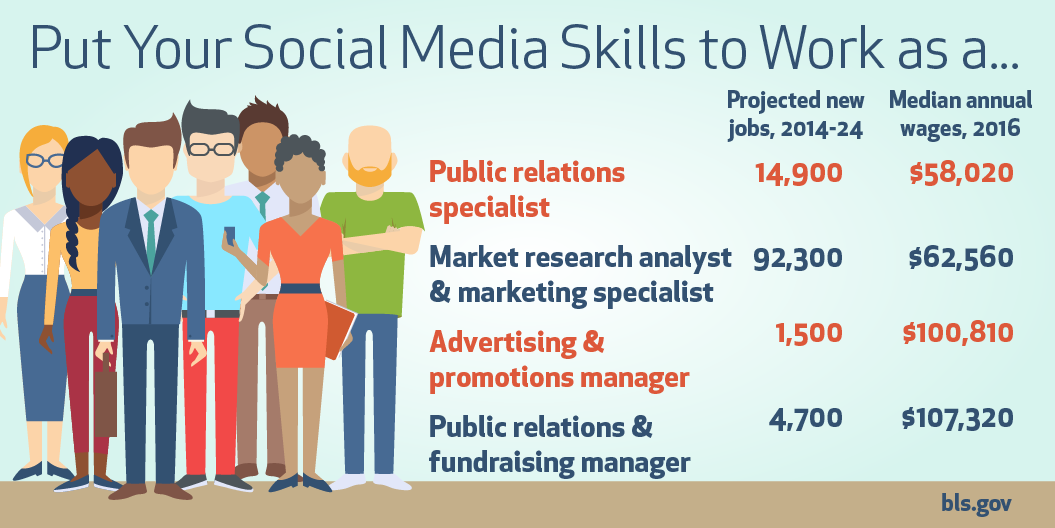 These jobs tend to pay well; their median annual wages are higher than the median for all occupations of $37,040 in May 2016. The median wages for the manager occupations are in the six figures. Keep in mind that to enter these occupations, you will typically need a bachelor's degree in public relations, journalism, communications, English, marketing, or a similar field.
Most of these occupations are projected to have average job growth between 2014 and 2024 (the average for all occupations is 6.5 percent). But employment of market research analysts is projected to grow much faster, at 18.6 percent.
Think you have what it takes to gain followers for your business or organization, and maybe even go viral? Explore all of these occupations and many more in the Occupational Outlook Handbook.
Alan Zilberman is an economist at the Bureau of Labor Statistics.
Put Your Social Media Skills to Work as a...
 
Projected new jobs, 2014-24
Median annual wages, 2016
Public relations specialist
14,900
$58,020
Market research analyst and marketing specialist
92,300
$62,560
Advertising and promotions manager
1,500
$100,810
Public relations and fundraising manager
4,700
$107,320