Electrical Apprenticeship Offers Iraq Vet a Bright Future
`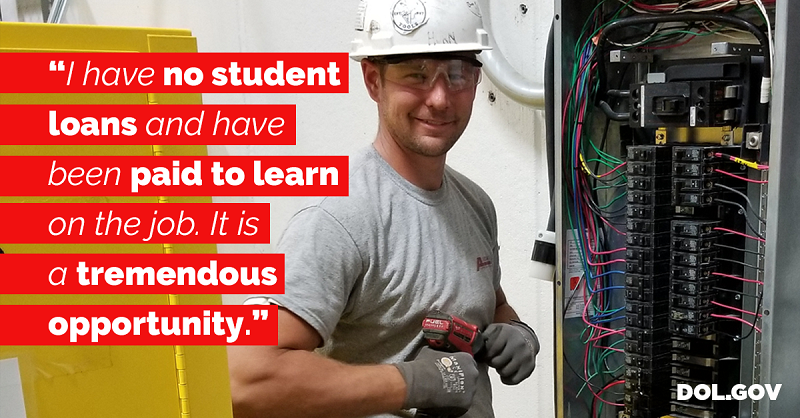 As a 17-year-old student at St. Charles High School in Illinois, Kyle Horn knew he was interested in a career as an electrician. He had his eye on a local apprenticeship program but first joined the Army Reserve as an interior electrician upon graduation in 2007.
With a few years of real-world experience under his belt, he applied in 2011 – and was accepted – as an apprentice while remaining in the Reserve. The program is run through the Northern Illinois Electrical Joint Apprentice Training Center in Crystal Lake, known as the JATC, and partners with the U.S. Department of Labor.  
"The JATC has been extremely accommodating of my Army duties," the 28-year-old veteran said. "Prior to my last deployment, they worked with me off-hours and extra days to help me finish my fourth year in the program so I'd be ready to finish up when I returned."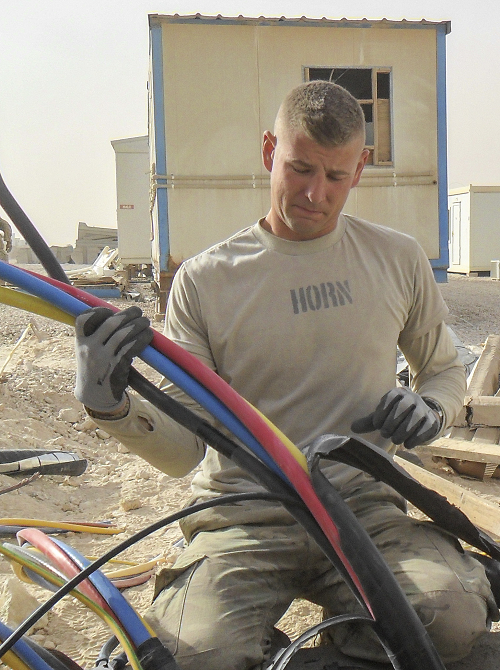 Sgt. Horn returned in March 2017 from his second deployment to Iraq, where he was assigned to the 863rd Engineer Battalion, 945th Engineer Detachment, Utilities Detachment in support of Combined Joint Task Force−Operation Inherent Resolve, the multi-national coalition working to defeat ISIS and stabilize the region. He was also deployed to the country in 2010.
Today, Kyle is nearly finished the 5-year apprenticeship − which also involves taking college courses − and is working at Associated Electrical, a Northern Illinois company that provides commercial and industrial services.
"I really like my job because the work environment changes every day. You never stop learning and it is never monotonous," he said. Another benefit: "I have no student loans and have been paid to learn on the job. It is a tremendous opportunity," he said, noting he has several friends who incurred significant student debt while learning their vocation. The same is true for his wife, Nicole, who is an architect.
Upon completing 8,000 hours of on-the-job training and 1,000 hours of instructional learning, Kyle will receive an industry-issued, nationally recognized journeyman certificate from the training center. Electricians in Illinois can expect to earn close to $80,000 per year on average.
His long-term goals include completing his bachelor's degree; he has nearly enough credits now through his apprenticeship training. He is also committed to a 20-year career in the Army Reserve.
"I feel truly blessed," he said. "I have a baby son due in January and two great careers that will enable me to take great care of my family."
There are more than 500,000 apprentices across the country, with more apprenticeship opportunities added every day. Learn more at www.dol.gov/apprenticeship. Information about career services available for veterans, transitioning service members and their spouses is available at www.veterans.gov.
Rhonda Burke is a public affairs specialist for the department in Chicago.