Apprenticeship Helps Montana Woman Keep the Lights On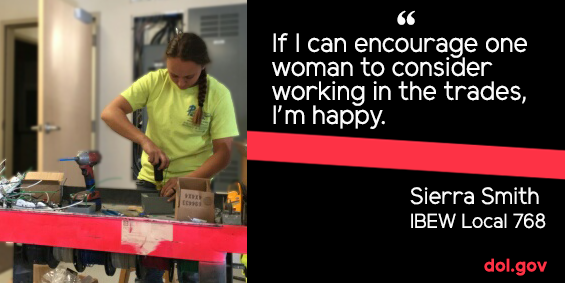 Only 3 percent – or 23,000 – of the estimated 774,000 electricians working in the country are women. Sierra Smith is one of them, thanks to hard work, determination, and an assist from Montana's apprenticeship program.
After a few years in college, Sierra ultimately decided that the classroom wasn't the place for her. She wanted to work keeping the lights on.
"I'm fascinated by electricity, it makes everything go," she said.
She entered a five-year apprenticeship program in 2016 after going to work as a parts runner, earning $12.84 an hour for the electrical company where her fiancé's father works. Five times a year, she travels to Helena to go through an intense one-week training where instructors teach everything from motors to theory to OSHA safety guidelines.
"I learned that you do it the safe way first so you don't get yourself or anyone else on the job site hurt," Sierra said.
Now earning $19.52 an hour, Sierra hopes to enjoy a long career as an electrician, eventually running big jobs with a crew. She is always supportive when she sees other women working in trades at job sites, often going out of her way to approach and encourage them.
"If I can encourage one woman to get out of her bubble and get into a trade, I'm happy," she said.
There are more than 540,000 apprenticeships across the country, with more opportunities added every day. Find a program or learn how to sponsor one at www.dol.gov/apprenticeship.
Editor's note: Sierra's story is one example of an effective workforce program in action. Find information about apprenticeship opportunities for women here and view more success stories here.
Leo Kay is the director of public affairs for the Department in San Francisco.