For people who can't imagine working inside all day, there's good news: According to the U.S. Bureau of Labor Statistics, nearly half of all jobs required outdoor work in 2016. Working outdoors can involve fresh air, exercise, and a sense of pride. Here's how some outdoor jobs stack up in terms of opportunities and wages:
On the Water
Captains, mates, and pilots of water vessels command or supervise operations of ships and water vessels, such as tugboats and ferryboats. Derrick operators rig derrick equipment and operate pumps to circulate mud through drill holes; rotary drill operators use a variety of drills to remove underground oil and gas as well as core samples for testing; and service unit operators manage equipment to increase oil flow from producing wells, or to remove stuck pipe, casing, tools, or other obstructions from drilling wells. Ship engineers operate and maintain a vessel's propulsion system, which includes the engine, boilers, generators, pumps, and other machinery. Sailors and marine oilers operate and maintain water vessels. Marine oilers work in the engine room, helping the engineers keep the propulsion system in working order. Sailors, or deckhands, keep all the other parts of a ship in order.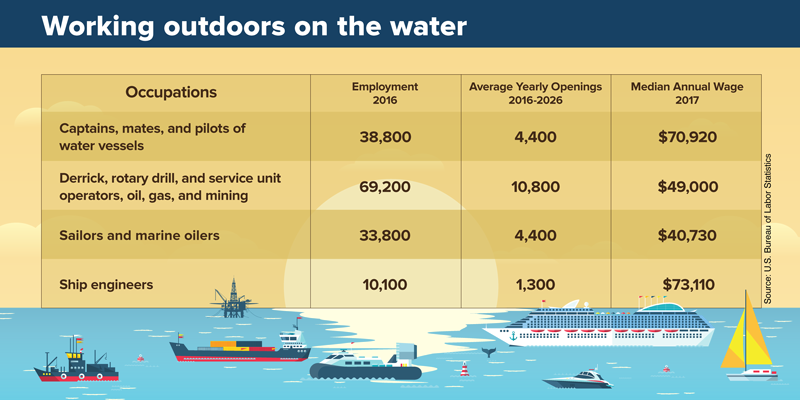 *Data for all four charts can be found at the bottom of the blog.
In the Woods
Foresters manage the overall land quality of forests by drawing up plans to regenerate forested lands, monitoring the progress of those lands, supervising tree harvests, and similar activities. Logging equipment operators use tree harvesters to fell trees, shear off limbs, and cut trees into desired lengths. They drive tractors and operate self-propelled machines called skidders or forwarders, which drag or transport logs to a loading area. Tree trimmers and pruners use sophisticated climbing and rigging techniques to clear dead or excess branches from trees and shrubs. They often work above the ground in the tree canopy or in truck-mounted lifts using handsaws, power pruners, and other tools.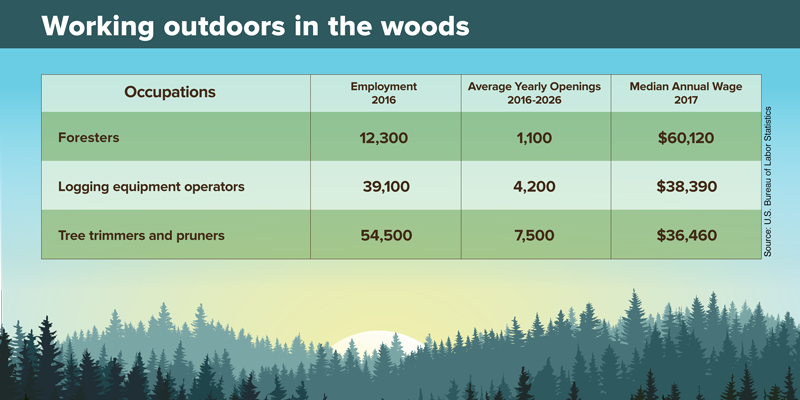 With Plants and Animals
Animal breeders select and breed animals for their genetic characteristics. Farmers, ranchers, and other agricultural managers operate establishments that produce crops, livestock, and dairy products. Farmers and ranchers own and operate mainly family-owned farms. Agricultural managers take care of the day-to-day operation of farms, ranches, nurseries, timber tracts, greenhouses, and other agricultural establishments. Soil and plant scientists conduct research on soil composition and plant growth, often looking for ways to improve the efficiency and safety of plant growth and products.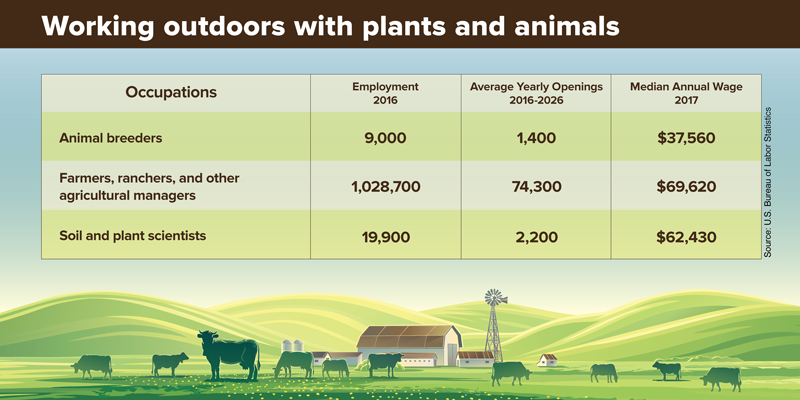 In Cities and Towns
You don't have to leave the city to find outdoor work. Civil engineers design, build, supervise, operate, and maintain construction projects and systems in the public and private sector – including everything from airports and bridges to sewage treatment and tunnels. Construction managers plan, coordinate, budget, and supervise construction projects from start to finish. Line installers and repairers work with the cables or wires used in electrical power or distribution systems. Surveyors make precise measurements to determine property boundaries – data used for engineering, mapmaking, and construction projects.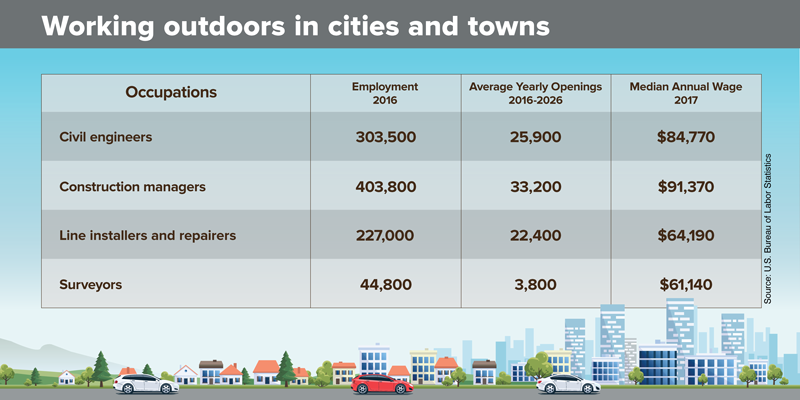 Find out more about these occupations, along with hundreds of others, in the Occupational Outlook Handbook. This blog is based on an article that originally appeared on the BLS website.
Elka Torpey is an economist in BLS's Office of Occupational Statistics and Employment Projections.
Working outdoors on the water
Occupations

Employment

2016

Annual Yearly Openings

2016-2026

Median Annual Wage

2017

Captains, mates, and pilots of water vessels
38,800
4,400
$70,920
Derrick, rotary drill, and service unit operators, oil, gas, and mining
69,200
10,800
$49,000
Sailors and marine oilers
33,800
4,400
$40,730
Ship engineers
10,100
1,300
$73,110
Working outdoors in the woods
Occupations

Employment 

2016

Annual Yearly Openings

2016-2026

Median Annual Wage

2017

Foresters
12,300
1,100
$60,120
Logging equipment operators
39,100
4,500
$38,390
Tree trimmers and pruners
54,500
7,400
$36,460
Working outdoors with plants and animals
Occupations

Employment 

2016

Annual Yearly Openings

2016-2026

Median Annual Wage

2017

Animal breeders
9,000
1,400
$37,560
Farmers, ranchers, and other agricultural managers
1,028,700
84,800
$69,620
Soil and plant scientists
19,900
2,200
$62,430
Working outdoors in cities and towns
Occupations

Employment 

2016

Annual Yearly Openings

2016-2026

Median Annual Wage

2017

Civil engineers
303,500
25,900
$84,770
Construction managers
403,800
33,400
$91,370
Line installers and repairers
227,000
22,400
$64,190
Surveyors
44,800
3,800
$61,140