Vet Lands Dream Job as a Pediatric Nurse
Army veteran Keith Westler is fulfilling a lifelong career goal by working as a pediatric nurse at Nationwide Children's Hospital in Columbus, Ohio. Thanks to the assistance of professional staff from the Department of Labor, American Job Centers, and the Veterans Vocational Rehabilitation and Employment program, he reached his career goals when his previous career came to an unexpected end.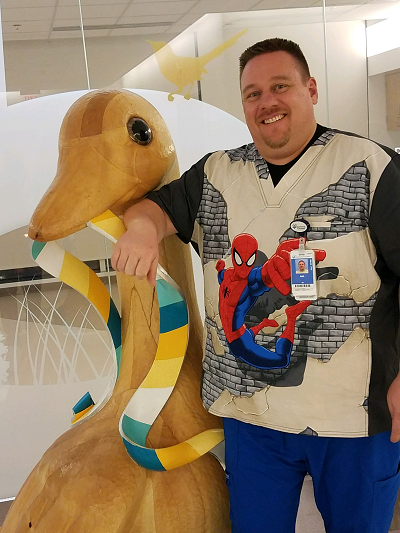 Four years ago, an injury sustained while working as a juvenile corrections officer left Keith unable to continue in that position. With a wife and three children to support, Keith turned to his local American Job Center, where he discovered he was eligible to apply to the Veterans Vocational Rehabilitation and Employment Program. The program made it possible for him to enroll in college courses that would help him gain new skills for employment.
He had always been interested in nursing, but the need to support his family had been a barrier to starting college when he was younger, so instead he enlisted in the Army.
At 40 years old, Keith began his first college course at Ashland University. As he was completing the program last spring, he returned to the American Job Center. He was connected with Disabled Veteran Outreach Program counselor Daniel Lipps, who helped Keith hone his interviewing skills, refine his resume, and land his dream job: He began working at Nationwide Children's Hospital in October 2017.
"I never gave up my dream of working in pediatric nursing, it was just delayed," Keith said. "I wasn't aware of the benefits of a program like Voc Rehab until the job center told me about it. Now, I am the program's biggest advocate."
Keith loves his new job, and the starting wage of more than $25 an hour with benefits enables him to support his family. "I am so happy to go to work every day," he said. "This is the job I was meant to do. I would encourage all veterans to visit the American Job Centers to discover what opportunities are available to them."
Veterans can receive one-on-one assistance at American Job Centers across the country. Visit www.veterans.gov for more information or call 1-877-872-5627 to find your local center.
Rhonda Burke is a public affairs specialist for the Labor Department in Chicago.