Passion for Cars Drives Apprentice Toward Success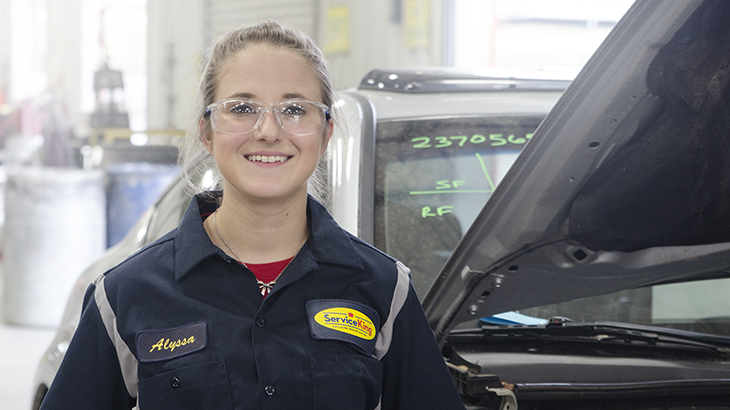 For collision repair technician Alyssa Culver, 22, working on cars is in her genes. She inherited her passion from her father, grandfather and great-grandfather − and she is on track to make them very proud.
Since she was a little girl, Alyssa has helped her father work on cars at her family's business. With a passion for the work, but no interest in attending a four-year college or incurring student loan debt, she enrolled at Universal Technical Institute.
"Attending UTI is one of the most important things I did," she said
Her apprenticeship taught her the basics and paved the way for her current profession as a collision repair technician at the Spring, Texas, location of Service King, which has a vested interest in her success.
"The support system is the best part," Culver said. Service King provides dedicated veteran technicians to oversee the apprentices and, according to Culver, that helps her quite a bit.
"Service King's Apprentice Development Program is a longtime vision of our organization. We take immense pride in creating opportunities for all of our teammates, especially the next generation of skilled technicians," said CEO Chris Abraham. Since its inception, the program has graduated 125 apprentices.
"The demand for technicians in this industry is well documented, so we are particularly proud of the success of this program and the early classes that have graduated from it," said Abraham. Employment for automotive service technicians and mechanics is projected to grow 6 percent from 2016 to 2026, according to the Bureau of Labor Statistics.
Culver says the dedicated support from Apprenticeship Supervisor Al Scott and her other colleagues contributes to her success. Culver, in turn, does the best possible work she can.
According to Tyra Bremer, Service King's vice president of talent development, Culver impressed her fellow apprentice technicians and other employees with her drive, ambition, and pride in her craft.
"I am hard on myself. I am trying to perfect everything," Culver says. In the future, she hopes to move up within her company, and maybe even manage a Service King location one day.
Editor's note: Alyssa Culver's story is one example of an effective workforce program in action. View more success stories here.
Juan J. Rodriguez is a public affairs specialist for the Labor Department in Dallas