EMT Apprenticeship Program Gives Californian a Career Serving His Community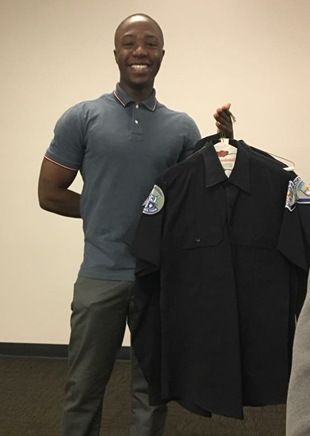 Jason Jones is giving back to the community that raised him, thanks to a unique job training program in Southern California. Raised in Norwalk, Jason now helps others as an emergency medical technician after completing an apprenticeship.
Following high school, Jason attended a local community college for a couple of semesters and worked in a job helping people with special needs transition into mainstream society when he learned about the EMT apprenticeship program from a family member. His previous job was rewarding but he had a long-term goal of a career in healthcare.
The apprenticeship program is operated by the Los Angeles County Fire Department, the Second Supervisorial District of Los Angeles County, and an ambulance company, with coordination from a local worker resource center. In this unique partnership, young adults from the community develop skills for a high-demand profession, participate in community service projects, and receive mentoring, leadership development coaching, and financial literacy instruction.
Jason spent five months in the intensive apprenticeship program – including mentorship – which prepared him well for the physical and mental rigors of working in emergency medical services.
After completing the apprenticeship program and related coursework, he passed the national registry exam for EMTs and was hired as a permanent employee of the ambulance company he had worked for as an apprentice.
Jason says he enjoyed learning on the job, and implementing the skills he learned in the classroom.
"The transition between book knowledge and practical skills has been incredible," he said.
Jason is currently interested in becoming a flight EMT but he said he is also considering a number of positions in healthcare, including working as a registered nurse, and is planning to begin taking college classes again.
"My life has changed, I'm on a career path now," he said. "I can change my community. My family members are very proud of me."
Leo Kay works for the U.S. Department of Labor's Office of Public Affairs in San Francisco.