Apprenticeship Program Launches Career in Community Healthcare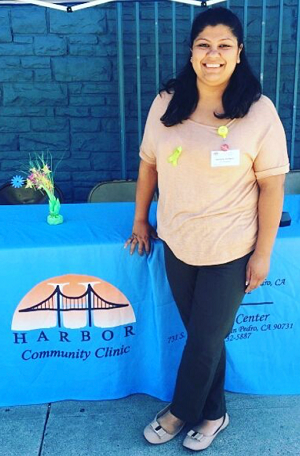 A unique Southern California apprenticeship program has helped Adriana Pacheco launch a new career in healthcare, where she helps improve patient health through community outreach.
Adriana had graduated from Sonoma State University in 2014 with a double major in anthropology and Spanish. While she was not interested in becoming a clinician or doctor, the experience of having open heart surgery at age 11 and a job that involved providing in-home therapeutic services for children with autism had given her a desire to work in the medical field.
She saw the two-year Care Navigator Apprenticeship Pilot program as the perfect opportunity to enter the field of healthcare without previous experience ‒ while earning a paycheck.
The program, run by the Worker Education and Resource Center in Los Angeles in partnership with other local organizations, helps community-based clinics improve care and reduce costs for high-risk patients with complex needs. Apprentices, or "care navigators," complete an intensive classroom education period before beginning on-the-job training under the guidance of a mentor.
As a care navigator, Adriana checked in on patients who had chosen to go to emergency rooms rather than their local clinic for common conditions such as diabetes, asthma, and headaches.
"We were the investigators, we always had to figure out why people were late for traditional appointments or simply relied on emergency rooms for all their care," Adriana said.
By visiting patients at home and meeting with their families, Adriana was able to help problem-solve better ways to live healthfully and address barriers to care, such as a lack of public transportation.
After completing the apprenticeship, Adriana was hired full-time as a clinic supervisor at Harbor Community Clinic in San Pedro. Her pay has increased substantially, and her team of five will grow to 25 next year when the clinic expands.
Editor's note: Find the apprenticeship that's right for you or post an apprenticeship job at Apprenticeship.gov.
Leo Kay works for the U.S. Department of Labor's Office of Public Affairs in San Francisco.