Women's History Month: Honoring the Past, Celebrating the Present, Envisioning the Future
During Women's History Month we honor the female trailblazers of the past, celebrate the achievements of women today, and envision a future of opportunities that knows no bounds.
The Trump Administration's pro-growth agenda has created tremendous economic growth and opportunity. Over the last year, we have seen the lowest unemployment for women in 65 years, the fastest wage growth since 2009, and a workforce with a record number of women working.
The Women's Bureau is focused on supporting this growth, and the women who are shaping our current and future workforce.  We are proud to explore ways to increase access to quality, affordable child care for families, job creators, and women in the current and future workforce.
A report on child care released by the White House Council of Economic Advisers this week notes, "An important barrier to bringing more adults off the sidelines, especially women, may be the high cost of engaging others to provide child care. Policies that reduce this cost of child care could bring more Americans into the workforce, increasing opportunities for families and ensuring that our current strong economic growth is sustained into the future."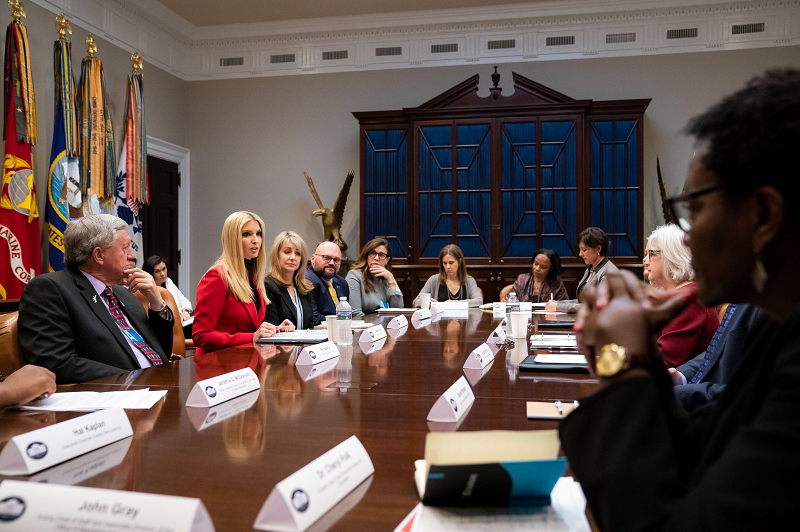 In 1854, Mrs. Cornelius DuBois founded The Nursery and Child's Hospital in New York to provide child care for working women – possibly the first to do so. She recognized then, as we do now, that if women don't have safe and affordable care available for their children, it is significantly harder to work, go to school, and learn new job skills.
More recently, President Donald J. Trump signed a federal budget that had the largest increase ever in Childcare Development Block grants – from $2.8 billion to $5.2 billion in FY 2018 – to help more families have access to quality child care when they work, go to school, and learn new job skills. The Tax Cuts and Jobs Act also doubled the child tax credit to $2,000 per child and provided a tax credit to job creators who provide paid leave to their workers.
Over the past few months, I have traveled across the country listening to and meeting with diverse groups of parents, child care and early education specialists, job creators, and researchers to discuss challenges and best practices around the provision of child care.
We continued this discussion earlier this week at a White House event hosted by Advisor to the President Ivanka Trump to further identify innovative solutions to helping families access affordable, quality child care. The goal is to continue to expand opportunities for all Americans and allow modern, 21st-century families the ability to thrive.
Today, as every day in our 98-year history, the Women's Bureau helps ensure that women can capitalize on today's opportunities, meet the workforce demands of tomorrow, and continue to blaze trails into the next century and beyond.
Dr. Patricia Greene is the Director of the Women's Bureau.