The Time Is Now for Women to Embrace Apprenticeships and Nontraditional Occupations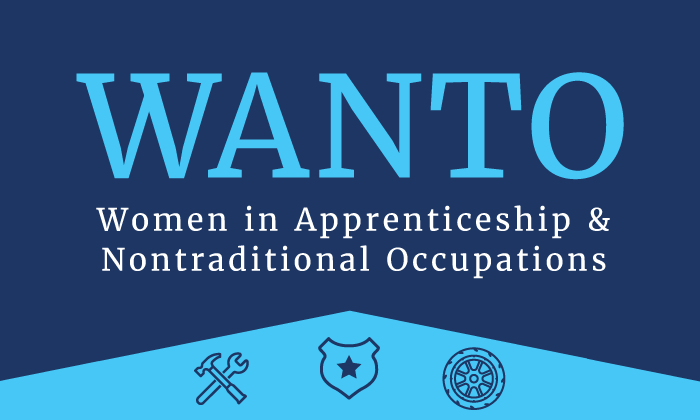 When we talk about women in the workplace, we often overlook the women who build our homes, our schools, and our roads. These women are construction workers, ironworkers, plumbers, and electricians. They have taken on occupations that require extraordinary grit and perseverance. They keep our economy running and growing while caring for their families.
This weekend, more than 2,000 extraordinary tradeswomen from across the country will gather in Minneapolis for the annual TradesWomen Build Nations conference – the largest conference of its kind in North America.
While the vast majority of these tradeswomen find themselves in nontraditional occupations – that is, occupations where women comprise less than 25% of those employed – these are occupations where women find opportunities for greater empowerment, advancement, and career and financial stability. As they break barriers in their fields these women also play a critical role in the development of the next generation by serving as role models for all women not just the next generation of women workers.
Our current economic climate is also providing women with unprecedented opportunities. However, the number of job openings remains high – 7.2 million in July 2019. Businesses report that one of the biggest issues they face is the skills gap – workers not trained and equipped to fill their open positions.
At the Women's Bureau within the U.S. Department of Labor, we want to help empower women to seize these by creating more pathways for success. To achieve this, apprenticeships must expand. Apprenticeships are a reliable pathway to well-paid careers in the trades and in science, technology, engineering, and math (STEM) jobs. Apprenticeships create a win-win situation for women, their families, and our nation's economy. They also serve as a way to upskill and launch successful careers regardless of their stage in life, education level, or previous work experience while earning an income.
The Women's Bureau has worked to enhance these opportunities through our Women in Apprenticeship and Non-Traditional Occupations (WANTO) grant program. Since 2017, we have awarded close to $4.5 million in grant funds. While the number of applications for WANTO grants has increased exponentially, there is still much work to be done for women to truly embrace the apprenticeship concept.
Most recently, we announced our 2019 WANTO grantees. One of the grantees is located in St. Paul – The Wisconsin Regional Training Partnership (WRTP). WRTP will work to provide training and support services to women in the Twin Cities as well as other metropolitan areas, including Pittsburgh, Kansas City, and Seattle. They plan to create a robust network of nonprofits, workforce investment boards, employers, and unions to engage and enroll more women in pre-apprenticeship and apprenticeship programs while meeting local workforce needs in construction, manufacturing, energy, IT, and transportation. As part of this work, WRTP will also hold workshops, webinars, and other events for women and employers educating them on the benefits of apprenticeship and nontraditional occupations, and ways to engage more women and ensure their success.
With the TradesWomen Build Nations conference and the WRTP program located in the Twin Cities, we are optimistic that women considering nontraditional occupations will take the time to learn more about the opportunities that these careers present. Additionally, if you are a woman interested in entering the workforce, changing your career, learning a new skill, or strengthening your earning potential take the time to explore the many apprenticeship programs out there for women in nontraditional occupations. Be sure to visit the U.S. Department of Labor's Women's Bureau website at www.dol.gov/wb. The Women's Bureau and the many agencies within the U.S. Department of Labor stand ready to help!
Erica Clayton Wright is the acting director of the U.S. Department of Labor's Women's Bureau.