Record Back Wages Collected for Working Families in 2019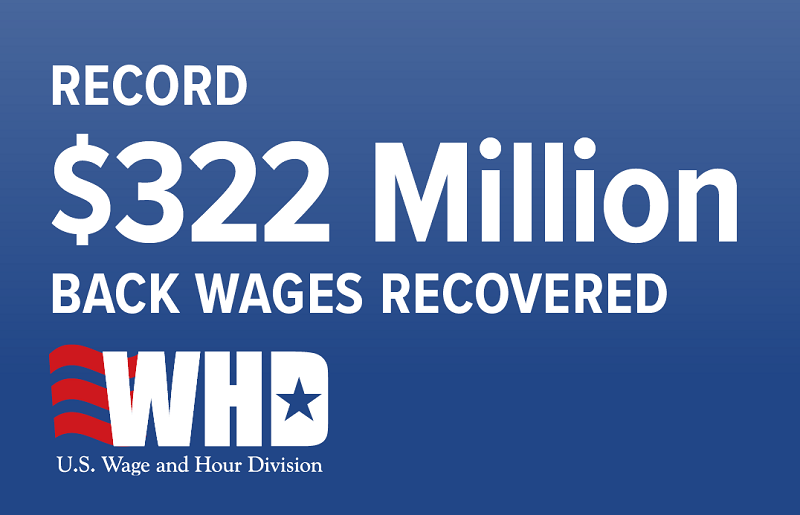 The U.S. Department of Labor's Wage and Hour Division (WHD) is proud to say that our efforts to protect the wages of America's workers were record-breaking this year.
For the second year in a row, WHD recovered a record amount of back wages for workers — topping our 2018 record by recovering over $322 million in back wages for more than 313,000 workers. That's over $882,000 per day recovered for working families across the country, and $1,025 per affected worker.
Recovering these back wages can transform lives and futures, but we are also dedicated to preventing these situations altogether. To help job creators understand their responsibilities under the law, we have stepped up our compliance assistance outreach. In another fiscal year 2019 record, WHD held more than 3,700 educational events across the country to ensure that employers had access to the resources they need to comply prospectively and avoid unintentional violations, with the understanding that most want to obey the law and simply need to know how.
Despite our record-breaking efforts, WHD is constantly improving and expanding our data-driven approach to identify the industries and sectors where we can focus resources most efficiently, and bring the most egregious violators into compliance. Our new Office of Enterprise Data and Analytics that launched this fall will enable us to use cutting-edge tools and data sources available to help us secure the largest possible impact.
I am proud to work alongside the great team at WHD who have dedicated their lives to helping the American workforce. It is their hard work and determination that have made these record achievements possible, and I look forward to what we can accomplish in the next year.
The Wage and Hour Division impacts the lives of working Americans on an enormous scale, and we will continue to deliver results for them in 2020. Learn more about our work and resources at dol.gov/whd. Employers and workers can contact us toll-free at 1-866-4US-WAGE with any questions.
Cheryl M. Stanton is the administrator of the U.S. Department of Labor's Wage and Hour Division.