$2.5+ Billion in Benefits Restored in 2019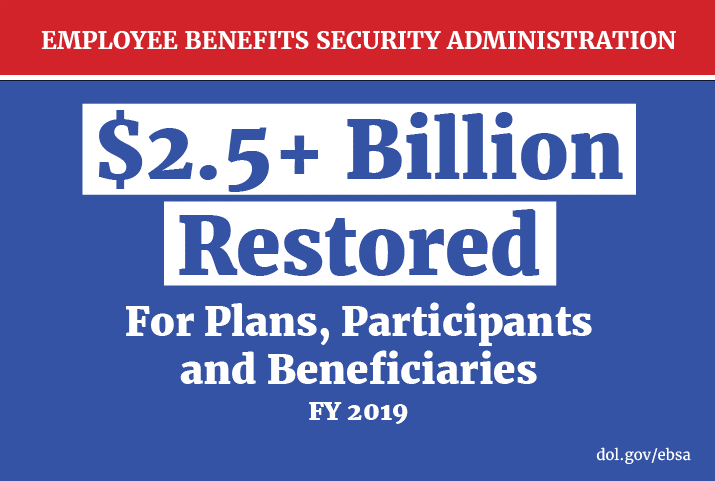 Through enforcing employee benefit plan laws and robust compliance assistance, the U.S. Department of Labor's Employee Benefits Security Administration (EBSA) serves 154 million American workers, retirees, and their families, as well as plan sponsors and other members of the employee benefit plan community. In fiscal year 2019, we recovered more than $2.5 billion in payments to plans, participants, and beneficiaries.
Investigations conducted through our enforcement program recovered $2 billion. Of that total, nearly $1.5 billion was collected through our Terminated Vested Participant Project, which helps retirement plan participants collect the benefits that are owed to them in the form of lump-sum payments, the present value of lifetime annuity payments, and interest. EBSA's criminal investigations uncovered violations that led to 76 individuals being indicted.
Throughout the year, our benefits advisors provided informal assistance to more than 166,000 people on issues ranging from lost or stolen retirement benefits, denied health or disability benefits, and more. These benefit advisors helped return $510 million to workers and their families through our informal complaint resolution process.
We also believe in the importance of educating the public to ensure that plan sponsors, participants, and beneficiaries understand their rights and responsibilities under employee benefits laws. Our benefits advisors and other agency staff hosted 1,788 outreach events and distributed 376,991 publications in 2019. Additionally, benefits advisors are available via phone and email to inform employers, plan sponsors, service providers, and others about the federal laws that cover private-sector employee benefit plans.
Three of our other programs have delivered significant results for American workers and retirees in the last year. Through the Abandoned Plan Program, 661 plans made distributions totaling $33.2 million to participants. We also continued to encourage plan fiduciaries and others to participate in the Voluntary Fiduciary Correction Program (VFCP) and Delinquent Filer Voluntary Compliance Program. These programs provide incentives – such as reducing or eliminating potential penalties and/or avoiding other adverse consequences – for fiduciaries and others to self-correct Employee Retirement Income Security Act violations. We received over 20,000 delinquent filings and 1,600 applications for the VFCP, and VFCP corrections totaled $14.6 million.
We are committed to ensuring American workers, retirees and plan beneficiaries can access the benefits to which they are entitled. Have a question for us? More than 3 million people visited EBSA's website last year for information about the laws governing employee benefit plans and compliance resources, and it's a great place to start. You can also call us toll-free at 1-866-444-3272 and we'll be happy to assist.
Preston Rutledge is the Assistant Secretary of Labor for the Employee Benefits Security Administration.