Overtime Pay Rules Were Implemented on January 1. Here's What You Need to Know.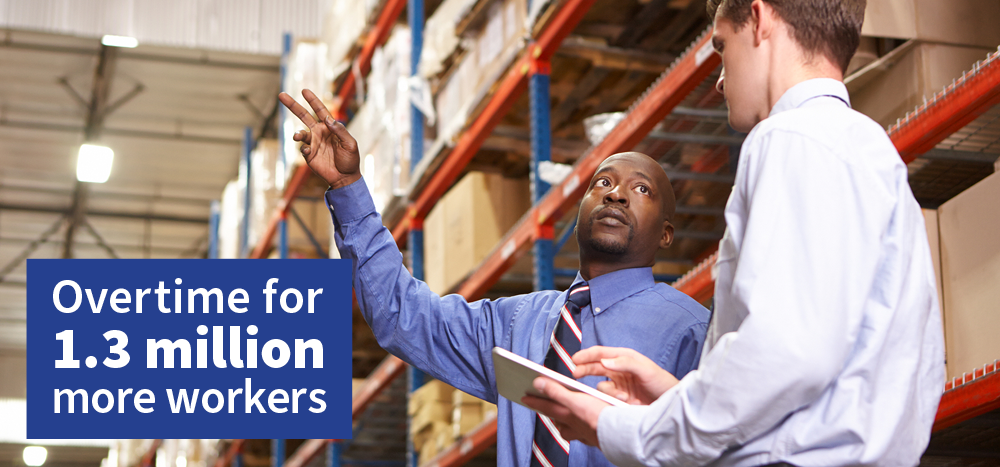 The U.S. Department of Labor's final rule making 1.3 million American workers newly eligible for overtime pay took effect on Jan. 1, 2020. Here's what you need to know about the changes and where to find compliance assistance resources.
What's new? The final rule updates the earnings thresholds necessary to exempt executive, administrative and professional employees from the Fair Labor Standards Act's (FLSA) minimum wage and overtime pay requirements, and allows employers to count a portion of certain bonuses/commissions towards meeting the salary level. Specifically:
The "standard salary level" is now $684 per week (equivalent to $35,568 per year for a full-year worker).
The total annual compensation requirement for "highly compensated employees" is now $107,432 per year.
Employers are allowed to use nondiscretionary bonuses and incentive payments (including commissions) paid at least annually to satisfy up to 10% of the standard salary level, in recognition of evolving pay practices.
The special salary levels for workers in U.S. territories and the motion picture industry have been updated.
We have compiled a number of tools and resources to help employers and workers understand their rights and responsibilities, including the following:
Detailed fact sheets provide overviews of overtime pay issues, as well as information on specific exemptions and occupations.
The Wage and Hour Division's e-tools can help employers calculate the amount of overtime owed, find out which workers are covered by the Fair Labor Standards Act and more.
Workers and employers can use our updated timesheet app to track regular work hours, break time and overtime hours.
For a complete list of resources – including a fact sheet, answers to frequently asked questions and more – you can visit the Wage and Hour Division's webpage for the final rule. Employers and workers with questions about the changes also can email us through an online form or call the toll-free hotline at 1-866-487-9243.
Cheryl Stanton is the Administrator of the Department's Wage and Hour Division.