Apprenticeship Pilot for Transitioning Service Members Will Boost Career Skills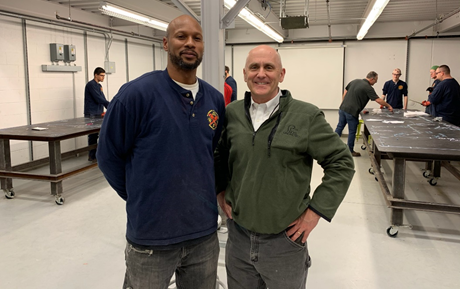 Enabling all veterans to reach their full potential in the workplace is not just about finding jobs for veterans, it's about finding the right job for them. Apprenticeships connect employers with talented workers and offer paths to gain critical job skills – which is why the Veterans' Employment and Training Service recently launched the VETS Apprenticeship Pilot.
New Apprenticeship Placement Counselors, who provide counseling and apprenticeship placement services, are working with transitioning service members, and their spouses, interested in exploring apprenticeship as a post-separation career pathway. The counselors are available virtually and at eight U.S. military installations in:
Marine Corps Air Station Miramar, California
Naval Base San Diego, California
Travis Air Force Base, California
Fort Bragg, North Carolina
Marine Corps Air Station Cherry Point, North Carolina
Nellis Air Force Base, Nevada
Fort Bliss, Texas
Naval Station Norfolk, Virginia
Apprenticeship Placement Counselors will participate in Transition Assistance Program workshops to highlight apprenticeship as well as assist transitioning service members and spouses individually. The counselors will work with networks of employers, industry associations and other stakeholders to connect the participants to apprenticeship opportunities in their desired industry and post-separation location.
Apprentices gain paid, relevant workplace experience; classroom instruction; and a portable, nationally recognized credential. Ninety-four percent of apprentices retain employment after completing their program, and the average annual starting salary for apprenticeship graduates is $70,000. Transitioning service members are well equipped to become apprentices since they are goal-oriented, hardworking and responsible, and have proven leadership skills and a strong work ethic.
Any transitioning service member or spouse interested in connecting with an Apprenticeship Placement Counselor should contact us at ApprenticeshipPilot@serco-na.com
Employers interested in tapping into a potential pipeline of apprentices, or for general pilot inquiries, can email VETSapprenticeship@dol.gov.
To learn more about apprenticeship, visit www.Apprenticeship.gov.
John Lowry is the Assistant Secretary for Veterans' Employment and Training. Follow VETS on Twitter.