Prevention and Protection Are Key to Ending Human Trafficking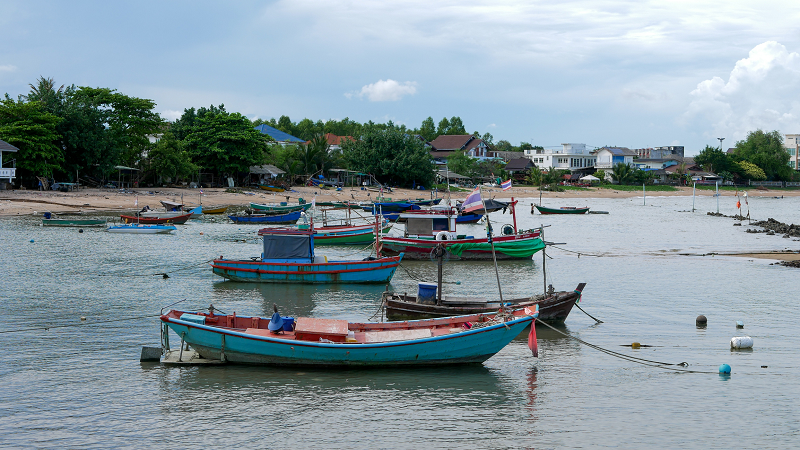 July 30 is World Day Against Trafficking in Persons.
When it comes to combating human trafficking, it's all about the four P's: Prevention, Protection, Partnership and Prosecution. The Department's Bureau of International Labor Affairs (ILAB), which works to safeguard the dignity of work everywhere, is engaged globally on prevention and protection in partnership with important stakeholders.
Let's take a look at how this works. One project ILAB funds is FAIR Fish, which focuses on reducing forced labor and fostering responsible recruitment in Thailand's fishing and seafood processing sectors. Unethical recruitment – such as charging fees to find people work – can often lead to human trafficking.
Project implementers Plan International and The Food School work directly with small- and medium-sized enterprises to pilot strategies for improving compliance by third-party agencies with responsible recruitment policies and procedures. Since its launch in January 2019, the project has published reports on migration patterns from Burma and Cambodia to Thailand, and a report on promising practices in responsible recruitment. The Food School conducted factory visits and drafted detailed document reviews of the participating companies' social compliance management systems. The Food School then helped the companies draft a set of policies and implement procedures related to recruitment. Between July 2019 and January 2020, The Food School provided 232 technical assistance sessions with companies to improve their compliance with international standards on responsible recruitment.
Despite restrictions related to the coronavirus pandemic, the project has continued engaging with partner companies, recruiters, and other stakeholders through online meetings, trainings and consultations. Migrant workers are also being reached in the recruitment chain and the broader seafood processing industry. FAIR Fish is launching a communications campaign to provide messaging on COVID-19 preventive measures and reduce the stigma against foreign workers that has been exacerbated by the pandemic. Partner companies are helping maintain safe and healthy working conditions by distributing personal protective equipment, cleaning supplies, and health monitoring tools for workers to use in their homes.
Another ILAB project, Combating Forced Labor and Labor Trafficking of Adults and Children in Ghana, is building the capacity of the government, businesses, and civil society stakeholders relevant to cocoa, gold, and palm oil supply chains to expand and better coordinate ongoing labor trafficking enforcement efforts in Ghana. By putting the right tools in the hands of labor inspectors, business owners, social service providers, and workers, the project helps promote supply chains free of exploitative labor.
The project implementer, Verité, has trained more than 100 government, civil society and private sector representatives on forced labor and forced labor indicators, which help them identify people who are vulnerable to forced labor. Multiple institutions have formally developed strategies for adopting a forced labor indicator approach. Verité also recently released a free online learning resource designed to help stakeholders improve their understanding of forced labor and the International Labor Organization's forced labor indicators.
The work we do in ILAB helps prevent human trafficking and protect survivors. Our efforts are part of a whole-of-government approach to eliminating human trafficking wherever it is found. World Day Against Trafficking in Persons provides us an opportunity to reflect on those efforts and reaffirm our commitment to ending this global scourge.
Martha Newton is the Deputy Undersecretary for International Affairs at the U.S. Department of Labor.