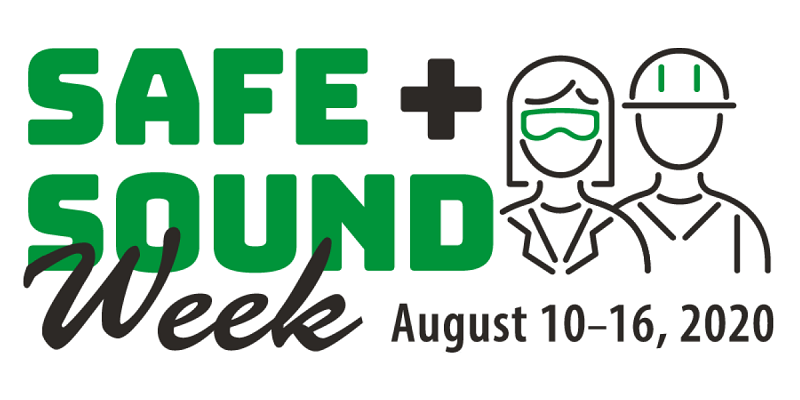 Safe + Sound Week is an annual event recognizing the success of workplace health and safety programs, and encouraging more workplaces to adopt best practices to keep workers safe.
Since the Occupational Safety and Health Act was signed into law 50 years ago, workplace injuries have declined from 10.9 incidents per 100 workers in 1972 to 2.8 per 100 in 2018, and workplace fatalities have declined from an average of 38 workers a day in 1970 to 14 a day in 2018. Behind those numbers is a lot of hard work from the dedicated safety professionals in our agency and the employers across the country committed to workplace safety.
Recently, a worker told one of our inspectors that the inspection "entirely changed the direction of her job." She explained that the employer made changes beyond the legal requirements following the inspection, and she "now feels she works for a company that truly cares for their employees."
Management leadership, worker participation, and a systematic approach to finding and fixing hazards are the pillars of OSHA's year-round Safe + Sound campaign, which focuses on the importance of safety and health in all American businesses. Safe + Sound Week spotlights the many ways safety and health management systems can improve working conditions.
Employers who actively involve workers through safety education and training also empower their employees to identify on-the-job hazards with tangible results. Active engagement in safety and health:
Prevents workplace injuries and illnesses;

Improves compliance with laws and regulations;

Reduces costs, including significant reductions in workers' compensation premiums; and

Increases productivity and enhances overall business operations.
Safe + Sound promotes safety and health management systems that are flexible and adaptable to every worksite and business model. I encourage you to explore these resources on OSHA's website and see how you can make your workplace Safe + Sound for every employee.
Loren Sweatt is the Principal Deputy Assistant Secretary for the U.S. Department of Labor's Occupation Safety and Health Administration. Follow OSHA on Twitter at @OSHA_DOL.
Editor's note: Looking for resources related to COVID-19? Find guidance and learn more about OSHA's response to the coronavirus at www.osha.gov/coronavirus.