Keeping Mine Rescuers Ready During the Pandemic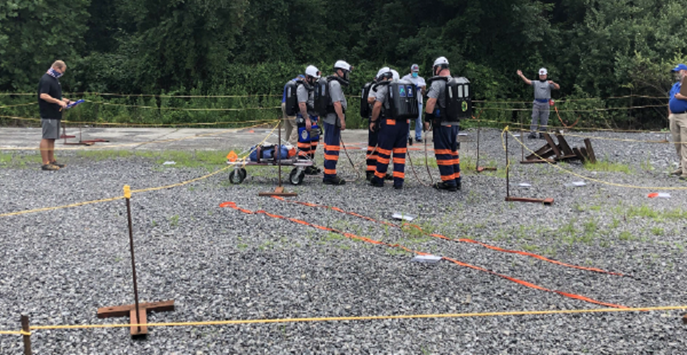 Recently, the U.S. Department of Labor completed the first successful mine rescue competition for underground teams in 2020 – a significant accomplishment in a year when competitions typically held annually at several mines around the nation have been delayed or canceled amid the coronavirus pandemic.
On July 27, the Norton District Office of the Department's Mine Safety and Health Administration (MSHA) and the Virginia Department of Mines, Minerals and Energy hosted the competition in Norton for three teams in Big Rock, Coeburn, and Norton, Virginia.
We all hope the day never comes when mine rescue teams need to deploy, but these dedicated individuals must routinely hone their skills and maintain their readiness. Together, MSHA and the contest's organizers capably and safely staged a semi-virtual contest that tested participants' rescue skills while minimizing the potential for exposure to the coronavirus.
Organizers of the July event adopted several additional safety precautions to prevent the spread of the coronavirus, including social distancing, personal protective equipment, and disinfecting equipment. In addition, the judges evaluated maps and written tests remotely, to reduce contact with participants.
The federal Mine Act requires underground mine operators to ensure adequately trained mine rescue teams are available for emergency rescue and recovery of trapped or injured miners. Mine rescue contests are an essential part of mine rescue teams' training process. The act requires coal mine rescue teams to complete two competitions every year.
Mine rescue contests are designed to sharpen skills and test the knowledge of mine rescue team members. The contests require them to solve a hypothetical problem while being timed and observed by judges. By working two competition problems on the same day, all three teams achieved compliance for 2020.
More competitions are scheduled for August, September and October so that teams can meet their 2020 training requirements. See a list of upcoming coal mine rescue contests, and learn more about MSHA's coronavirus response.
Mine operators or rescue teams with questions about contest compliance can contact MSHA at 202-693-9400 or AskMSHA@dol.gov.
David Zatezalo is the Assistant Secretary for Mine Safety and Health at the Mine Safety and Health Administration. Follow MSHA on Twitter at @MSHA_DOL.