Increasing Career Opportunities for Women in Apprenticeship and Non-Traditional Occupations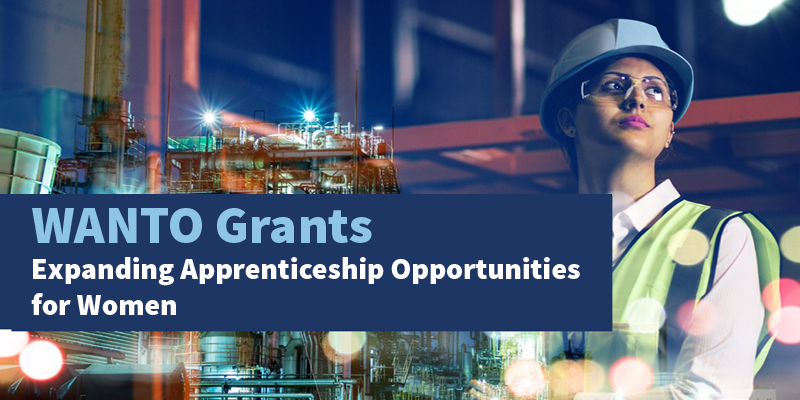 Expanding access to apprenticeship opportunities has been a cornerstone initiative of this administration. From 2017-2019, the Women in Apprenticeship and Non-Traditional Occupations (WANTO) grant program awarded nearly $4.5 million in grant funding. As the number of applications for WANTO grants has increased yearly, we are proud that we have nearly matched funding over the past three years, by awarding $4.1 million in 2020 alone.
This increase in funding is just one way the U.S. Department of Labor's Women's Bureau demonstrates its commitment to our mission of advancing opportunities for women to have profitable employment. Grant recipients will be using the funds to help women enter jobs in non-traditional occupations by providing training to women directly or through technical assistance to organizations that provide training.
Non-traditional careers with an apprenticeship path offer a path for financial independence. One of the many benefits of apprenticeships is that workers are paid while they learn and do not have to accumulate debt or forgo earnings while in school. Employers benefit by directly shaping their employees' technical skills, cultivating the skilled workforce they need to be competitive.
We know one reason many women don't currently take advantage of apprenticeships is that they are often in industries where there is very little female representation. According to American Community Survey data from 2018, women are only about 3% of construction workers nationally.
One of our grantees, Gang Alternatives, will be working in Broward and Miami-Dade counties in Florida to recruit women into the construction industry and address the following barriers:
Women's technical skill disadvantage due to lack of opportunity to be exposed to construction training or on-the-job training at entry-level construction jobs.
Lack of knowledge by employers and unions about women's potential efficacy in the construction field.
Inadequate support services to facilitate women's successful construction job training and retention, including access to child care and transportation.
Other WANTO recipients will help create opportunities in a diverse set of fields.
Goodwill Industries of East Texas's TA for Women's Tech Sector Advancement Program will help increase the number of women entering the regional information technology sector.
Workforce Development Board of Herkimer, Madison and Oneida Counties will deliver outreach and pre-apprenticeship information technology training to women in 17 counties in upstate New York.
Apprenticeship and Nontraditional Employment for Women, a partnership between Apprenticeship and Nontraditional Employment for Women (ANEW) and Oregon Tradeswomen, will serve women seeking to enter the building trades in Alaska, Washington, Oregon and Idaho.
The Center for Employment Training (CET) in California will place their graduates into training-related employment or apprenticeship readiness programs to prepare for entrance into registered apprenticeships as electricians, truck drivers, HVAC technicians and more.
Finally, Chicago Women in Trades (CWIT), a repeat grant recipient, will continue their work in increasing the retention of women in the skilled trades throughout Illinois, Ohio, Michigan and Pennsylvania.
Congratulations to this year's awardees!
Laurie Todd-Smith, Ph.D., is the Director of the U.S. Department of Labor's Women's Bureau. Follow the Women's Bureau on Twitter.