How to Save for Retirement at Every Stage of Your Career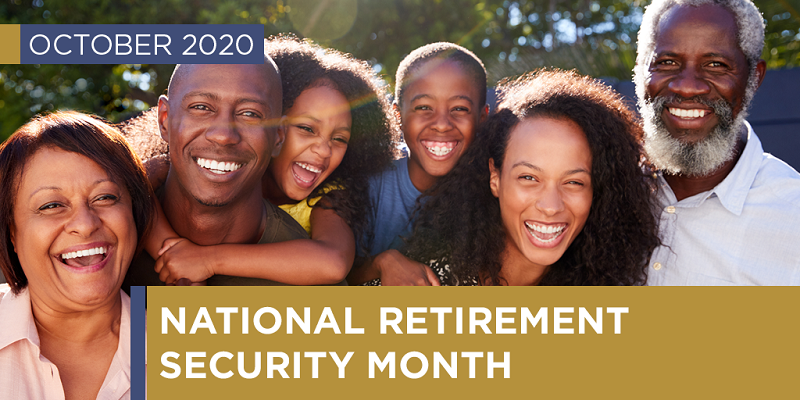 We know that saving for retirement is always a challenge, but it is important to get started and make saving a habit for a secure retirement. October is National Retirement Security Month – a great time to take action to secure your retirement. Here are a few resources that can help, whatever stage of your career you're in, even if you've already retired.
Near Retirement
The first thing to know: It's never too late to start saving for retirement. Some workers over 50 may even be able to make catch-up contributions to save faster. Figure out where you are in your savings plan and what that means for your retirement savings goals. Use these tips, and check out our retirement toolkit for more resources:
Put everything you can into your retirement plan, especially if your employer contributes too. Remember you will need to replace approximately 80-90% of your pre-retirement income to cover expenses.

Reduce expenses. Funnel the savings into your nest egg.

Learn about your investment options. Spread your money among investments to diversify, including putting money where the returns are.

Work longer—giving your retirement savings more time to grow, and more income for regular savings.

Delay taking Social Security benefits, the monthly benefits will be higher when you start collecting them.
Mid-Career
Take full advantage of your workplace retirement plan if your employer offers one, and learn how it works. This is one of the best, and easiest ways, to save. If your employer doesn't offer a plan, learn about your other options. You also should:
Save as much as you can. If your employer matches your contributions, find out how much the match is and how much you need to contribute to take advantage of the entire match.

Save regularly. Make saving for retirement a habit.

Use automatic deductions from your payroll or your checking account for deposit in mutual funds, IRAs, or other investment vehicles.

Be realistic about investment returns. Never assume that a year or two of high market returns will continue indefinitely. The same goes for market declines.

If you change jobs, keep your retirement account money in your former employer's plan or roll it over into your new employer's plan or an IRA.
New Workers
New workers may have more debt (think student loans) or other financial constraints, but beginning to save now is critical because compound interest will allow those savings to grow over time. Follow these recommendations, and find more tips for new employees:
Create a budget and find money you can put aside for saving.

Take advantage of your employer's retirement saving plan.

It's ok to start small! Even setting aside a small portion of your paycheck each month will pay off in big dollars later.

Learn about your investment options. You can afford to invest more aggressively, which can have higher returns.

Get started! Start the saving habit early – get time on your side. You will need to save a lot less later on.

Leave your retirement savings in the plan. When you change jobs or think you need some extra money – resist the temptation to cash out your account. Instead, watch it grow.
Retired
Whether you're ready to enjoy your hard-earned retirement or plan to work part-time, you want a strategy to avoid outliving your savings. The money you have saved and invested will be earning income until you withdraw it. Deciding how to handle your money will help you pay less in taxes on money you take out and continue to grow the money you leave in so it can last your lifetime. See chapter five of "Taking the Mystery Out of Retirement Planning" for practical tips like these:
As you're withdrawing money to pay your bills in retirement, you should try to grow your remaining money to at least keep up with – and preferably beat – inflation.

You may want to seek the help of a professional, especially later in retirement when you may have less ability to keep your strategy on target. Good financial professionals legally must be clear and open about their fees and charges and whether they are paid by commissions or for the sales of products like annuities and mutual funds.

Be aware of scams. Become an informed investor – if it sounds too good to be true, it probably is.

As part of COVID-19 relief, required minimum distributions (RMDs) for defined contribution plans (such as a 401(k) plan or 403(b) plan) and IRAs are waived during 2020. You can find more information from the IRS.
If you have questions about your workplace benefits, our benefits advisors are ready to help. Call 1-866-444-3272 or contact us online. We also have more information and tools to help you plan for a secure retirement on our Saving Matters website.
Debra Golding is Deputy Director of Consumer and Compliance Outreach and Education in the Employee Benefits Security Administration.