Improved Opioid Stats for Federal Workers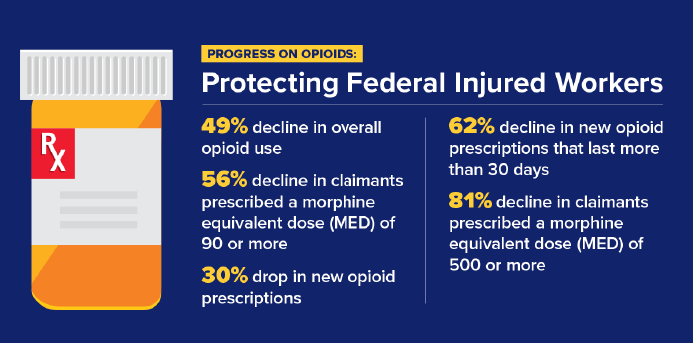 The opioid epidemic continues to take a heavy toll on American families and communities, but we've seen some promising signs of improvement in recent years.
In the Office of Workers' Compensation Programs (OWCP), we oversee one of the largest self-insured workers' compensation systems in the world – covering approximately 2.6 million federal employees – and we're doing our part to help reduce opioid misuse. We know that opioid misuse can start with a prescription, so we've focused our efforts on appropriately reducing the prescription of opioids within the Federal Employees Compensation Act program.
Before January 2017,DOL had taken minimal action to combat the opioid crisis. If a pharmacy bill for an opioid prescription was submitted, it was almost always paid. A few limited controls were in place, but none considered whether an opioid prescription was medically necessary and neither duration nor the dose levels were tracked. Since January 2017, with the national focus brought to the forefront by the Presidential initiative, we've implemented systematic changes that have reduced the number of injured federal employees receiving opioid prescriptions. Our data-driven approach emphasizes effective controls, tailored treatment, meaningful communication and diligent fraud detection.
Among the changes we've instituted:
We started examining pharmacy bills for opioid prescriptions more carefully, tracking both the duration of the prescription and dose levels being prescribed.
We started limiting new opioid prescriptions to an initial seven-day supply. Recipients may receive three additional seven-day refills – but they need authorization for prescription opioids beyond that initial 28-day period.
We established a team of specialized medical benefits examiners to work with treating physicians and injured workers to develop tailored treatment plans.
We ensure that injured workers prescribed opioids receive information explaining the risks of prescription opioids, encouraging alternative non-opioid treatments, and facilitating any necessary treatment for those already addicted to opioids – and we inform providers prescribing dangerously high dosages that we are monitoring their prescribing practices.
We significantly increased referrals of suspected fraud.
The results are impressive. Since January 2017:
Overall opioid use has dropped 49%
New opioid prescriptions have dropped 30%
New opioid prescriptions lasting more than 30 days decreased by 62%
Claimants prescribed the highest dosage levels (a morphine equivalent dose of 500 or more) decreased by 81% (and claimants prescribed a dose of 90 or more dropped by 56%)
All of these statistics point toward one thing: measurable progress in reducing the likelihood of opioid addiction or misuse. There's still more work to be done, but we're proud of the progress we've made and look forward to continuing to support injured federal workers and reducing the risk of opioid misuse.
Julia Hearthway is the director of the Office of Workers' Compensation Programs.