#NAW2020: Building Skills, Expanding Opportunity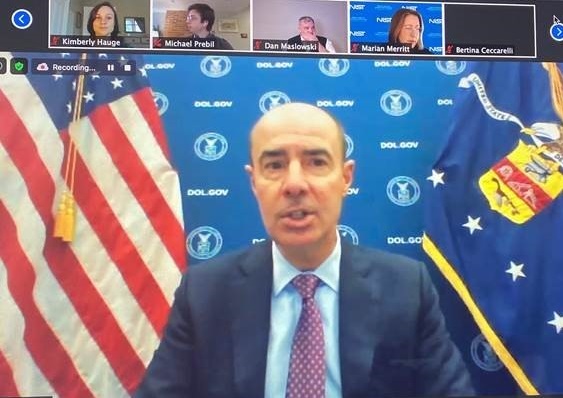 There's a good reason that more workers and employers are choosing apprenticeship. In the past year alone, job creators started about 3,000 new apprenticeship programs, and more than 200,000 people became apprentices. And since the beginning of the Trump Administration in 2017, more than 850,000 apprentices have been hired.
Why? Because apprenticeship gives workers the skills they need to succeed in growing industries while earning the wages they need to build financial security, not to mention a portable, industry-recognized credential. And apprenticeship lets employers develop a reliable talent pipeline of employees who perform high-quality work. From the building trades to 5G/telecommunications, from cybersecurity to healthcare, more than 633,000 apprentices are currently training for the jobs of today and tomorrow. Employers love apprenticeships because 94% of apprentices continue employment after completing an apprenticeship. Career seekers love apprenticeship because in addition to developing a lifelong set of skills and an industry-recognized credential upon completion, they earn on average $70,000 per year.
This Nov. 8-14, the U.S. Department of Labor joined partners across the country in celebrating the sixth annual National Apprenticeship Week. Despite many events moving from in-person to virtual this year, business, labor, education, policymakers and other apprenticeship leaders hosted more than 830 events and issued a record 170 proclamations demonstrating their commitment to apprenticeship.
Some highlights include:
You can check out more #NAW2020 highlights here.
It was great to hear from everyone who participated! Thank you to all of our partners who helped get the word out about the value of apprenticeship in preparing Americans for good jobs.
Visit Apprenticeship.gov to learn how to start an apprenticeship program, find apprenticeship opportunities, explore resources for educators and more.
John Pallasch is the Assistant Secretary of Labor for Employment and Training.