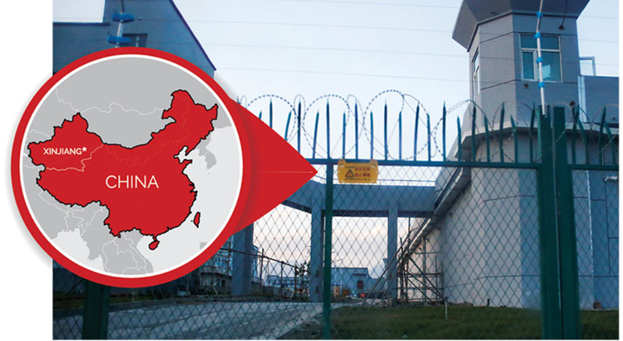 Imagine a worker whose employer has canceled his passport, relocated him to a detention camp and forced him to work for little to no pay making gloves. This worker endures strict limits on his freedom of movement and communication, constant surveillance, isolation, retribution for his religious beliefs, exclusion from the community and social life, and threats to his family members. He is also enrolled in a Communist Party indoctrination program. The gloves he makes are shipped for sale all around the world to unwitting consumers.
Now stop imagining. This is a reality.
The Chinese Communist Party continues to carry out a campaign of repression in the Xinjiang Uyghur Autonomous Region, targeting Uyghurs, ethnic Kazakhs, Kyrgyz, and members of other ethnic or religious – mostly Muslim – minority groups. Specific abuses include arbitrary mass detentions, forced labor and other labor abuses, oppressive surveillance, religious persecution, and other infringements on the rights of those groups in Xinjiang and across China.
The U.S. Department of Labor has reason to believe at least 100,000 and possibly hundreds of thousands of Uyghurs, ethnic Kazakhs, and other ethnic and religious minorities are being subjected to forced labor following detention in reeducation camps. Poor workers from rural areas may also experience coercion without detention under the guise of "poverty alleviation."
Uyghurs work in factories in the supply chains of dozens of global brands in the technology, clothing and automotive sectors.
As we observe National Slavery and Human Trafficking Prevention Month and National Human Trafficking Awareness Day on Jan. 11, the conditions in Xinjiang are a stark reminder of the realities faced by the 25 million forced laborers the world over.
In September, the U.S. Department of Labor's Bureau of International Labor Affairs (ILAB) released its List of Goods Produced by Child Labor or Forced Labor, which featured the addition of 25 goods, including 13 goods produced by forced labor. Five of these goods – gloves, hair products, textiles, thread/yarn and tomato products – were made by Uyghur and other ethnic or religious minorities in state-sponsored forced labor in China.
Since then, ILAB has conducted outreach on our reports and placed a particular focus on Xinjiang and forced labor. We continue to engage with industry, civil society, U.S. government agencies, foreign governments and other stakeholders on forced labor in China. We have also been closely monitoring a growing number of reports of Tibetans likewise being placed in forced labor camps in Tibet and elsewhere in China, and investigating reports of additional goods that may be produced by forced labor in the Xinjiang region.
At the same time, the U.S. government has engaged in a whole of government effort to address these egregious labor issues in China. Last July, the U.S. Departments of State, Treasury, Commerce and Homeland Security issued a Xinjiang Business Advisory to counsel businesses about human rights abuses, including labor abuses, that exist in supply chains in Xinjiang and China more broadly. Over the past year, the Department of Homeland Security's Customs and Border Protection has issued Withhold Release Orders blocking the imports from specific producers engaged in forced labor in China.
Ending these immoral labor practices in Xinjiang requires the efforts of the global community to condemn and forbid them. The U.S. government – and the U.S. Department of Labor – are leading the fight.
Michael Stojsavljevich is the acting deputy undersecretary for international affairs for the Department's Bureau of International Labor Affairs.