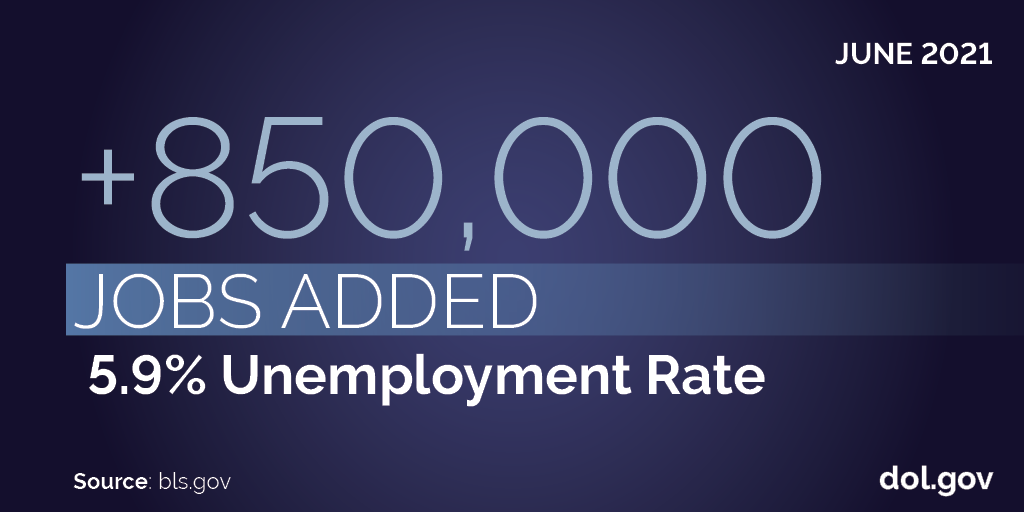 We've added more than 3 million jobs to our economy since President Biden took office.
Today, the Bureau of Labor Statistics reported that the American economy added 850,000 jobs in the month of June, and the unemployment rate was 5.9 percent, compared to 5.8 percent in May. This increasingly strong job growth reflects growing confidence among workers as more people get vaccinated and American Rescue Plan investments provide stability for families, businesses, and communities. 
Americans are going back to work in large numbers, but this is no time to let up.
I've seen our progress first-hand as I've traveled around the nation. As COVID-19 cases decline, worker confidence is growing. But there's a long road to recovery ahead. We're still down millions of jobs from pre-pandemic levels and the inequities heightened by the crisis persist. We need to be proactive in our policies to create good jobs and make sure all workers have access to those jobs.  
As we enter the Fourth of July weekend, there is cause for celebration.
This Independence Day, more of us can gather safely with friends and family again, confident that we are beating the virus, jobs are returning, and that under the President's leadership the economy is growing faster than at any time in the past 40 years. The Biden-Harris administration is delivering on their promise to #buildbackbetter.