The Department of Labor Celebrates National Hire a Veteran Day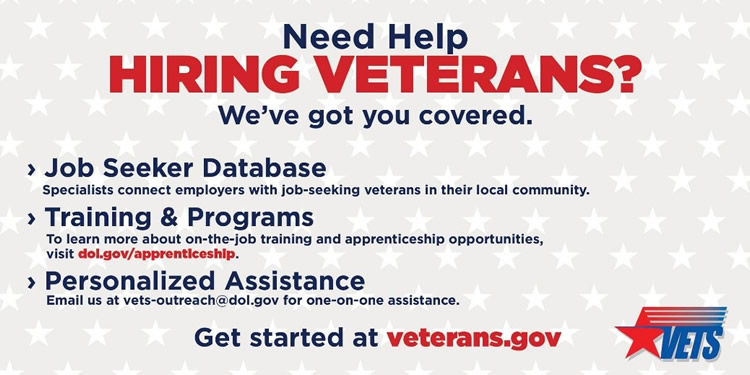 With 6.6 million open jobs across the nation, America's job creators are ready to hire. As we celebrate National Hire a Veteran Day, the U.S. Department of Labor's Veterans' Employment and Training Service (VETS) has an important message for those job creators: America's veterans are ready to work.
VETS works to connect job creators with talented veterans who can bring their proven skills, experiences, and leadership qualities to the workplace. VETS can also help job creators develop or enhance a veteran hiring program, recruit a veteran from their community, upskill or reskill a veteran who has already been hired, and even provide one-on-one assistance when needed.  
VETS also plays an important role in President Trump's recent efforts to put more veterans in the workplace. Last year, President Trump signed legislation that created the HIRE Vets Medallion Program, which will recognize job creators for their investments in recruiting, employing, and retaining America's veterans. The HIRE Vets Medallion Award will signal to transitioning service members and veterans that a company has a proven commitment to hiring our nation's heroes. Job creators can apply for this program starting in January 2019.
On National Hire a Veteran Day, we are reminded of the importance of ensuring veterans can successfully transition to the civilian workforce. Visit www.hirevets.gov if you know an employer who should apply for a HIRE Vets Medallion Award, and subscribe here to stay up to date with VETS' upcoming initiatives and events.
By engaging job creators and recognizing veterans' valuable skills, we can ensure America's service members and veterans have access to good, family-sustaining jobs.  
Matthew Miller is the Deputy Assistant Secretary for Policy in the Department's Veterans' Employment and Training Service.