Improving Federal Workers' Compensation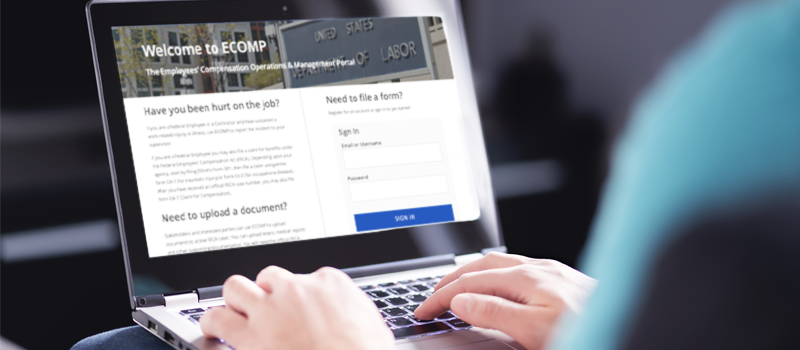 Thousands of federal workers are injured on the job every year, but until recently, their workers' compensation claim filing experiences varied widely between agencies.
Imagine you are a post office mail carrier and a dog on your route bites you. Previously, you would have had to fill out a workers' compensation claim form under the Federal Employees' Compensation Act, then get your supervisor to complete it and send it to the Department of Labor's Office of Workers' Compensation Programs, known as OWCP. After a week and a half, you might receive a confirmation letter in the mail indicating the case file has been created, but if the OWCP claims examiner couldn't read your handwriting or some information was missing, that could delay review and approval of necessary medical care.
Or you might be an FBI agent who breaks a leg while performing your duties. You could file a workers' compensation claim online and immediately get an email confirmation. The form would go to your supervisor and you'd be notified when it was completed. Your claim would be reviewed and approved faster – just because the agency you worked for used OWCP's more efficient workers' compensation filing system.
For years, this type of process disparity existed across the federal government. But the new Protecting Employees and Enabling Reemployment (PEER) Initiative aims to improve federal workplace safety and health.
To help ensure all injured federal employees experience a streamlined claims submission process, one of the PEER Initiative goals directed all federal agencies to submit their workers' compensation forms through a single online system that already exists and is available to all federal agencies.
OWCP manages this system, called ECOMP, for federal employee workers' compensation claims. During September 2019, just 33% of federal government workers' comp forms were submitted through ECOMP. Filing through ECOMP has now increased dramatically; in June 2020, 95% of federal government workers' comp forms were submitted through ECOMP. Much of this increase is due to the U.S. Postal Service (our largest customer that accounts for approximately half of all claims) taking the big step of fully transitioning to ECOMP nationwide in March 2020.
ECOMP has many benefits:
Standardizes claims processing and expedites submissions for faster entitlement decisions and benefit payments;

Triggers disability interventions earlier in the case and improves return-to-work outcomes;

Eliminates the government's cost of maintaining redundant IT systems in favor of one streamlined platform;

Reduces improper payments of workers' compensation benefits; and

Allows for rapid communications with the injured workers about the dangers of opioids, the status of their medical claims, and other critical information.
Mandating the use of ECOMP helps ensure an efficient, modern federal workers' compensation process rather than a cumbersome and costly collection of paper claims, faxes, and multiple systems. ECOMP creates one simple process for every federal worker and employer while improving accuracy in payments, delivering benefits faster, and reducing operational costs. Learn more about ECOMP and the PEER Initiative.
Julia Hearthway is the Director of the Office of Workers' Compensation Programs.