Lifting Burdens 1 Pound (Cake) at a Time

There have been times when the weight of life nearly caused Army veteran Steven Nelson to give up. Today, he is lifting those burdens one pound at a time with gourmet pound cakes that he sells at three Milwaukee retail stores and provides through catering. After serving eight years in the Army in a logistics role, Steven returned home to Milwaukee in the 1980s but struggled to maintain steady employment, housing and the means to support his young family. In the 1990s, with the support of his wife and daughter, he began "Kitchen Sweets," a part-time business baking and selling pound cakes. "I baked as a hobby using my grandmother's recipe and my motto is 'When grandma hasn't got time,'" Steven said.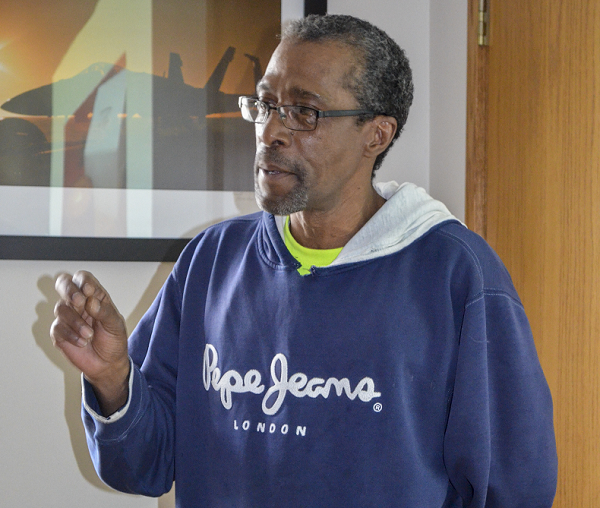 Steven shared his story recently at the Center for Veterans Issues.
Though he worked hard, life continued to throw curve balls over the coming years, including the death of his wife. The former Army supply sergeant sometimes found himself struggling with homelessness. "Too many veterans give up," he said. "I didn't want to be among that statistic and I was nearly out of hope." The turning point came in the late '90s when Steven learned about the
Center for Veterans Issues
, a nonprofit that has received Labor Department funds through the
Homeless Veterans' Reintegration Program
. CVI has been able to provide training, job placement and housing services as needed since then, helping Steven gradually work his way out of poverty and plan for the future. It's been a long road, but today Steven is working several part-time jobs and studying business administration at a local community college. He is developing a business plan and hopes to continue expanding Kitchen Sweets, which now offers 30 gourmet flavors, into a permanent store front in the near future. "I am not sure I would be alive today without CVI," Steven said. "The work they do helps so many veterans succeed."
Editor's note: 
Veterans, transitioning service members and their spouses can connect with career resources and other services at
veterans.gov
. The site also has tools for employers looking to hire vets.
The "DOL Working for You" series highlights the Labor Department's programs in action. View other blog posts in the series 
here
.
Rhonda Burke is a public affairs specialist for the Labor Department in Chicago.