Lifelong Seamstress (Finally) Reaps What She Sews

Bertha Gonzalez not only appreciates fashion, she loves the work that produces it. "I love what I do. I love to sew and have been working in the industry all of my life." Bertha, a seamstress in Los Angeles' fashion district, has spent 40 years sewing clothes destined for the racks at many retail outlets. But the
garment industry
, especially in LA, can make for an especially tough way to make a living. Bertha supplements her roughly $300-a-week income with Social Security checks. Like most seamstresses, Bertha has always been paid by the piece in the garment industry; that is, a flat rate per garment that she completes. "The rates have fallen over the years," she says, adding that "food prices go up and up." Back when she first started working in 1977, she only did so for eight hours a day, but garment contractors now expect 10-12 hours of work per day with no guarantee of the
minimum wage
or overtime.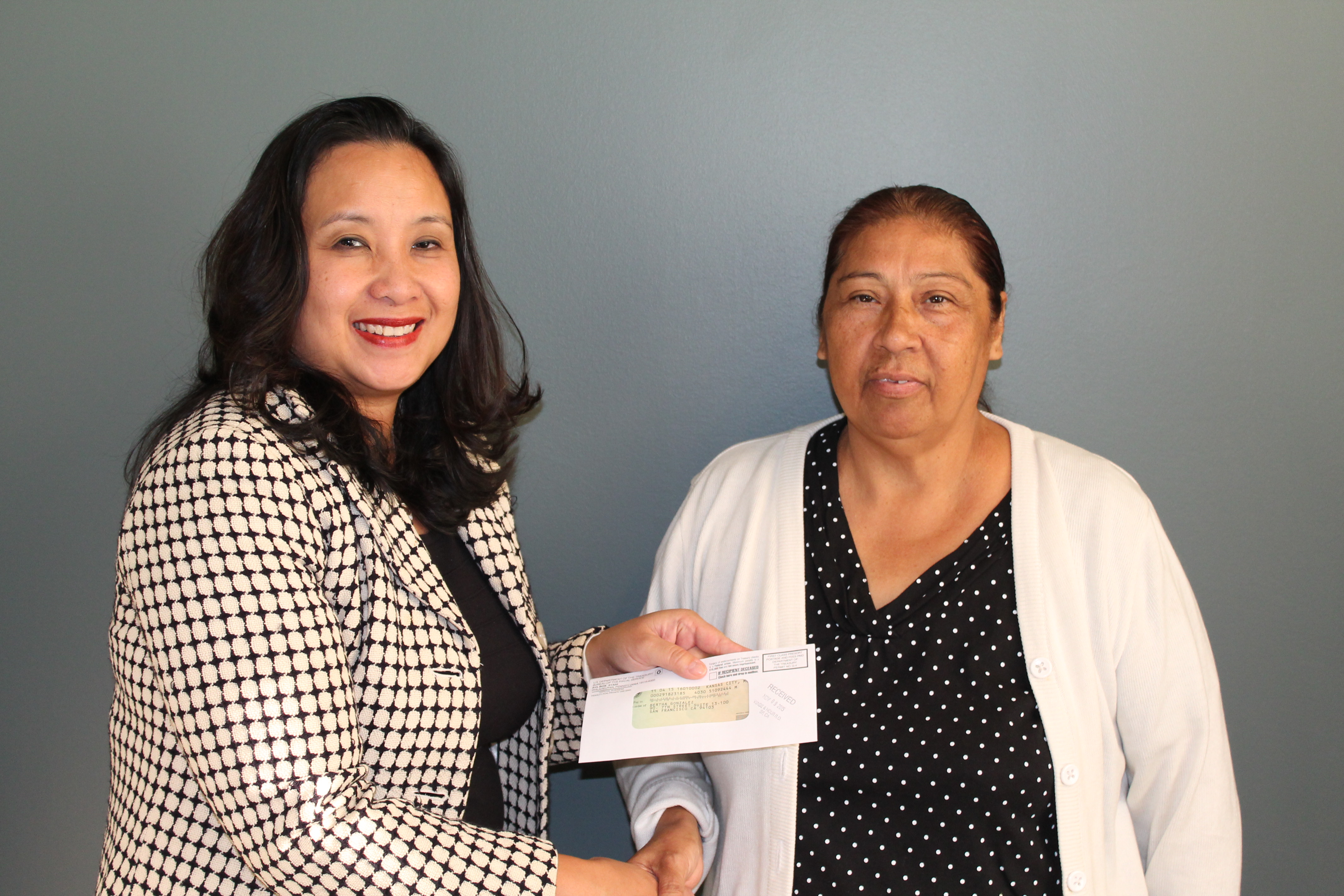 Bertha Gonzalez (right) receives a check for back wages from Kimchi Bui, district director for the Wage and Hour Division in Los Angeles.
It's conditions like these that have drawn the attention of Los Angeles-based Wage and Hour Division investigators. During the 2015 fiscal year, the agency concluded 199 investigations in the industry, most in Southern California. Investigators found labor violations affecting 1,275 workers. As a result, the agency determined those workers were owed a total of $1,594,928 in back wages. Aware of these trends, Bertha knew something was amiss with her pay during her time with WUMC Clothing, a company she no longer works for. An investigation by the Los Angeles district office found Bertha was owed $7,598 in back wages for minimum and overtime violations committed by her employer. She says Wage and Hour investigators were courteous, helpful and expeditious in processing her case. So how does she plan to spend the much-needed back wages? Besides basic living expenses, "I am going to go shopping and buy clothes with this" she laughs, "also shoes." She also plans to visit relatives in Guadalajara who she has not been able to see in years. In the meantime, Bertha cautions others in the garment industry to "not be taken advantage of." She has worked seven days a week and on holidays, and routinely has been denied
overtime pay
.  "No one should be permitted to go through that." If you are concerned about your company's pay practices, or you are an employer who wants to be sure you are complying with the law, learn more on the Wage and Hour Division's 
website
 or by calling 1-866-4-US-WAGE (1-866-487-9243). You also can check to see if back wages are being held for you as the result of an investigation using the online tool, 
Workers Owed Wages
.
Editor's note: The "DOL Working for You" series highlights the Labor Department's programs in action. View other blog posts in the series here.
Leo F. Kay is the regional director of public affairs for the department in San Francisco.