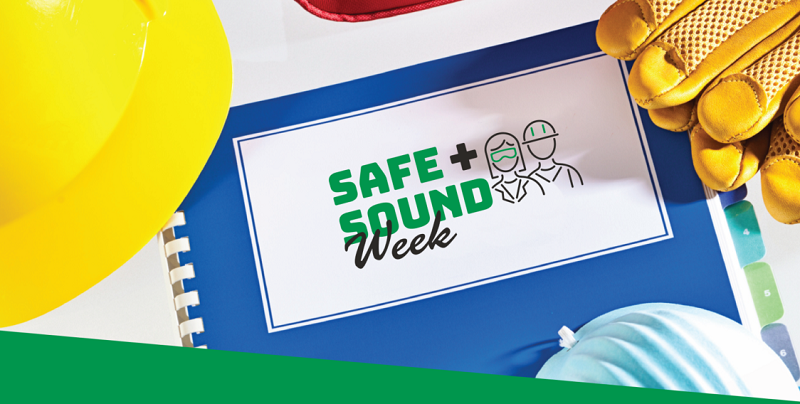 While most injuries and illnesses can be prevented, millions of workers are injured on the job every year and thousands are killed. Far too many workers face unnecessary workplace hazards that cause injury and illness because their employer didn't implement safety and health programs.  
That's why we are collaborating with unions, businesses, safety and health professionals and other worker organizations nationwide for our annual Safe + Sound Week, Aug. 9-15, to recognize the importance of workplace safety and health programs and share ideas on how to keep America's workers safe.  
Each year, Safe + Sound Week encourages businesses and workers to host activities and events to promote proactive safety and health programs. These programs help businesses: 
Prevent workplace injuries and illnesses. 

Improve compliance with laws and regulations. 

Reduce costs, including workers' compensation premiums. 

Engage workers. 

Enhance social responsibility goals. 

Increase productivity and enhance overall business operations.  
Through this campaign, our goal is for employers to develop best practices for finding and fixing hazards and implementing a safety and health program so that workers go home unharmed to their families at the end of the day.  
For example, Milliken and Co.'s Golden Valley Plant in North Carolina participated in Safe + Sound Week last summer to help empower their more than 100 employees – and reported a positive impact. The manufacturing worksite, which has earned Star status in the Voluntary Protection Program, also participated to demonstrate leadership in their industry on the importance of safety and health programs.   
Organizations of any size in any industry looking for an opportunity to show their commitment to keeping the workplace safe for workers, customers and their community should join us! Find more resources on how your business can participate and list your events at www.osha.gov/safeandsoundweek.  
Jim Frederick is the acting assistant secretary of the department's Occupational Safety and Health Administration. Follow OSHA on Twitter at @OSHA_DOL. 
Lugares de trabajo más seguros tiene sentido empresarial
A pesar de que la mayoría de lesiones y enfermedades pueden prevenirse, millones de trabajadores se lastiman y miles mueren en el trabajo cada año. Demasiados trabajadores confrontan peligros laborales innecesarios que causan lesiones y enfermedades debido a que sus empleadores no han implementado programas de seguridad y salud ocupacional. 
Es por eso que estamos colaborando con sindicatos, negocios, profesionales de seguridad y salud, y otras organizaciones de trabajadores de todo el país con motivo de nuestra Semana anual Safe + Sound, del 9 al 15 de agosto, para reconocer la importancia de los programas de seguridad y salud laboral y compartir ideas sobre cómo mantener seguros a los trabajadores en Estados Unidos. 
La Semana Safe +Sound anima cada año a que empresas y trabajadores organicen actividades y eventos para promover proactivamente programas de seguridad y salud. Estos programas ayudan a las empresas a:
Prevenir lesiones y enfermedades en el lugar de trabajo.

Mejorar el cumplimiento de leyes y reglamentos.

Reducir costes, incluidas primas de compensación laboral.

Involucrar a trabajadores.

Mejorar objetivos de responsabilidad social.

Aumentar productividad y mejorar eficacia operacional.
Nuestro objetivo con esta campaña es que los empleadores desarrollen mejores prácticas para identificar y solucionar riesgos laborales y apliquen programas de seguridad y salud para que los trabajadores regresen sanos a sus hogares al final de la jornada.
Por ejemplo, la Golden Valley Plant de Milliken and Company en Carolina del Norte participó en la Semana Safe +Sound el verano pasado en apoyo a sus más de 100 empleados – lo que reportó un impacto positivo.  La planta de fabricación, la cual ya obtuvo estatus Star del Programa Voluntario de Protección, también participó para demostrar liderazgo en su industria respecto a la importancia de los programas de seguridad y salud.
Pueden unirse a nosotros organizaciones de cualquier tamaño y de cualquier industria que busquen una oportunidad para mostrar su compromiso de mantener sus lugares de empleo seguros para los trabajadores, sus clientes y sus comunidades. Encuentre más recursos sobre cómo puede participar y anote sus eventos en www.osha.gov/safeandsoundweek.
Jim Frederick es el secretario asistente en funciones de la Administración de Seguridad y Salud Ocupacional del departamento. Siga a OSHA en Twitter por @OSHA_DOL.