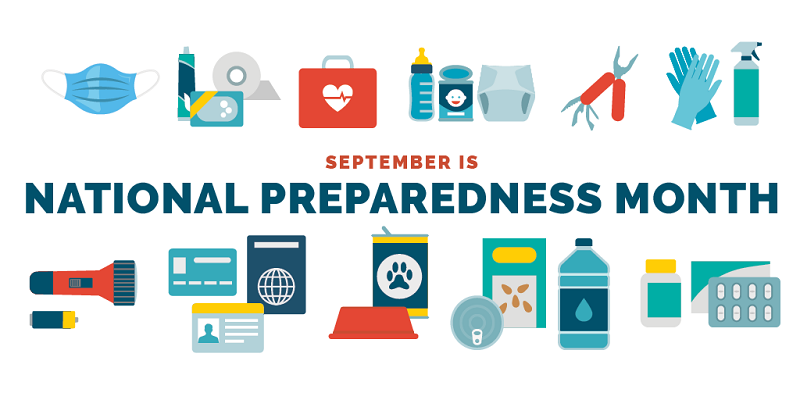 Research shows extreme weather events are likely to become more frequent as a result of climate change. At the U.S. Department of Labor's Occupational Safety and Health Administration, we know worker safety is an important part of climate resilience ‒ that is, how we prepare for and respond to climate-related risks. During National Preparedness Month in September, we are getting the word out on how important it is for employers to plan ahead.
Because extreme climate events are so unpredictable, follow these four steps NOW to keep workers safe during an emergency.
Find more OSHA resources on emergency preparedness.
For additional information and resources on how to better prepare for emergencies, visit www.Ready.gov, the Small Business Administration, the National Oceanic and Atmospheric Administration and the Centers for Disease Control and Prevention.
Young Wheeler is the Director of the Office of Emergency Management and Preparedness Office for the Occupational Safety and Health Administration. Follow OSHA on Twitter at @OSHA_DOL.
Mes Nacional de Preparativos: Planeando la Protección de los Trabajadores
Por Young Wheeler 
Los estudios muestran que los eventos climáticos extremos van a ser más y más frecuentes como resultado del cambio climático. En la Administración de Seguridad y Salud Ocupacional del Departamento de Trabajo de EE.UU. sabemos que la adaptación climática hace parte integral de la seguridad de los trabajadores - o sea, cómo prepararse y cómo responder a los riesgos relacionados al clima.
Ya que los eventos climáticos extremos son tan impredecibles, siga AHORA estos cuatro pasos para mantener a los trabajadores seguros durante una emergencia.
Desarrolle un plan ajustado a su lugar de trabajo. No todos los planes de emergencia son iguales. Su plan debe ajustarse específicamente a su lugar de trabajo, así como enfocarse sobre los aspectos relacionados a la naturaleza de la emergencia. Los mejores planes de emergencia son los que incluyen a los trabajadores como parte de su desarrollo. Anime a que los trabajadores consideren peligros potenciales, peores escenarios posibles, y respuestas adecuadas a la emergencia. Use nuestra herramienta en línea para crear un plan a la medida.

Haga un listado y revíselo bien. Al preparar su plan de emergencia, haga un listado como este de la Administración de Pequeños Negocios que identifica la información y los equipos que podría necesitar tales como valoración de daños, lista de contactos ante una emergencia, procedimientos de evacuación, y equipos de protección personal (PPE). Consulte aquí los requisitos de OSHA sobre PPE en caso de una emergencia.  Por la actual pandemia de COVID-19, asegúrese de protegerse y proteger a otros incluyendo mascarillas, medicinas, desinfectante para manos y otros recursos.

Instruya y entrene adecuadamente a sus empleados. Capacite a sus trabajadores en el idioma que entiendan sobre cómo responder con seguridad a una emergencia e incluya en su plan necesidades de empleados con discapacidades. Asegúrese que sus empleados entienden cada elemento de su plan de emergencia, incluidos los tipos de emergencias posibles, procedimientos de notificación, planes de evacuación, reconocimiento de materiales peligrosos y protocolos sobre cierres.    

Revise, practique, y depure su plan. Al terminar su plan de emergencia, revíselo con sus empleados y póngalo en áreas donde se pueda ver con facilidad. Ensaye a menudo su plan de emergencia para que todos sepan los procedimientos correctos a seguir. Asegúrese de revisar y actualizar su plan al menos una vez al año, identificando sus fortalezas y debilidades, y realice las mejoras necesarias. Las empresas pequeñas y medianas pueden solicitar una consulta gratuita al Programa de Consulta On-Site de OSHA para analizar sus planes y otros programas de seguridad y salud ocupacional. 
Encuentre más recursos de OSHA sobre preparativos de emergencia.  
Para información adicional y recursos sobre cómo prepararse mejor para emergencias, visite www.Ready.gov, la Administración de Pequeños Negocios, la Administración Nacional Oceánica y Atmosférica y los Centros para el Control y Prevención de Enfermedades.
Young Wheeler es el director de la Oficina de Preparativos y Manejo de Emergencias, en la Administración de Seguridad y Salud Ocupacional. Siga OSHA por Twitter en @OSHA_DOL.