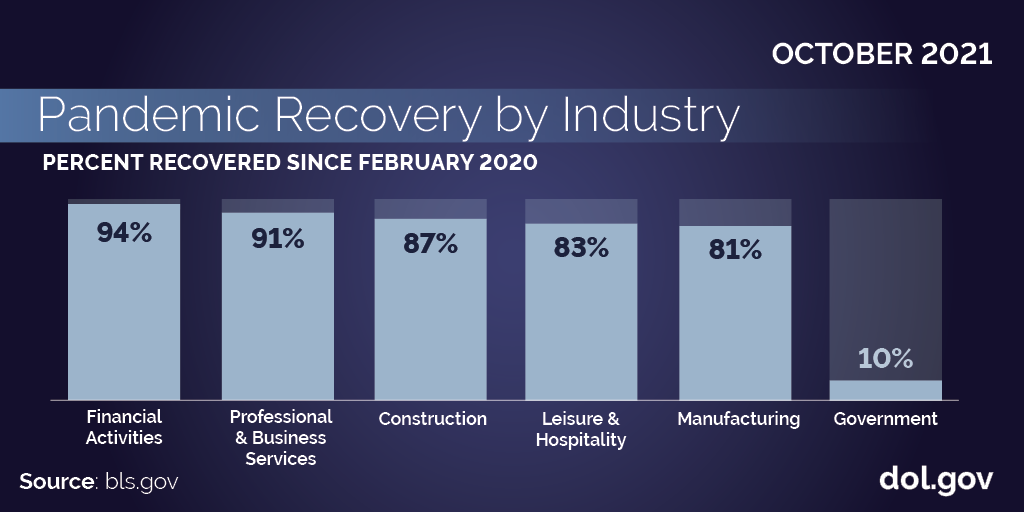 Today, the Bureau of Labor Statistics reported that the American economy added 531,000 jobs in the month of October, and the unemployment rate was 4.6 percent, down from 4.8 percent in September.
  
The Biden-Harris Administration is getting Americans back to work at a historic pace, with 5.6 million jobs added since the President took office and an average of 620,000 jobs per month. October growth was strong across the private sector, with especially significant gains in manufacturing, business services, leisure and hospitality and the care economy, all hit hard by COVID. 
This report reminds us how essential our pandemic response is to our economic recovery.  
Getting shots in arms and relief to families has allowed many more Americans to return to work and made our economy more resilient to issues like the Delta variant. Today's data reveals that the number of people who are not re-joining the workforce due to covid-related concerns dropped to its lowest level since the beginning of the pandemic. We need to keep doing everything we can to help people stay healthy and return to work with confidence. Continuing to prioritize public health through measures such as workplace vaccination and testing policies will be key to our progress moving forward. 
This report is promising – but we still have work to do.   
The report also shows that unemployment among Black and Hispanic workers, and workers without high school diplomas, remained significantly higher than the overall rate, another clear indicator that we must prioritize equity in our economic recovery. The President's infrastructure and Build Back Better plans would address these needs directly by creating quality jobs, building inclusive pathways into those jobs, and lowering costs for all working families. 
 
OSHA's new Emergency Temporary Standard on vaccination aims to help decrease worker hospitalizations and deaths from COVID-19, and keep our economy open. More information, including FAQs and factsheets, can be found here: http://osha.gov/vaxETS

Marty Walsh is the secretary of labor. Follow him on Twitter and Instagram at @SecMartyWalsh.