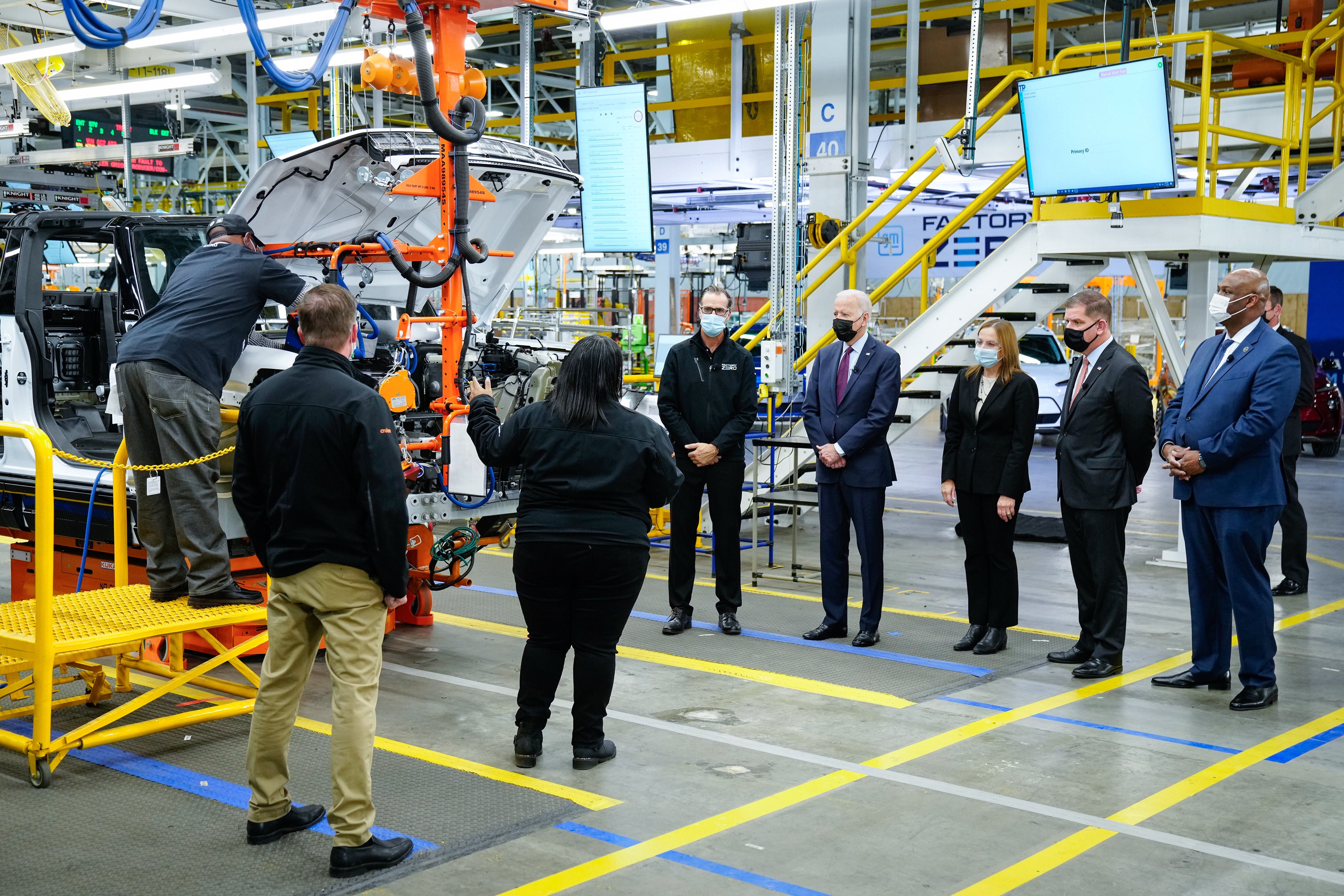 Yesterday, I had the honor of joining President Joe Biden, Sens. Debbie Stabenow and Gary Peters, U.S. Reps. Brenda Lawrence, Debbie Dingell, Dan Kildee, Haley Stevens and Andy Levin, and state and local officials in Michigan to attend the grand opening of General Motors' Factory ZERO – the company's first all-electric vehicle assembly plant – with GM CEO Mary Barra. 
It was a thrill to also be joined by United Auto Workers President Ray Curry in the capital of blue-collar America with a President who delivered a blue-collar blueprint for rebuilding America. 
Since I began in March as your Secretary of Labor, I have traveled to 53 cities in 27 states, including Michigan, to hear from workers about what they need to succeed: good-paying jobs, stronger communities and the security of a healthy future for their loved ones. That's what the Bipartisan Infrastructure Law delivers. 
Through it, we will rebuild our roads, bridges, public transit and our ports. We will replace lead water pipes and give every home clean water. We're going to expand access to affordable, quality broadband in every community. And we will see more facilities like Factory ZERO across the nation so we can build electric and alternative fuel vehicles here at home. 
We will rebuild America with America's workers.
The Bipartisan Infrastructure Law puts its faith in America's workers to lead the world into the 21st century. It will create thousands of good-paying jobs in every corner of the country and lift more families into the middle class.  
As a member of the President's implementation team, I am proud of what we have accomplished and look forward to continuing to see firsthand how we are transforming communities. I also look forward to the next step in rebuilding America: passing the Build Back Better framework so working families can afford the child care, elder care, health care, education and job training they deserve. 
Let's win the future. 
Marty Walsh is the secretary of labor. Follow him on Twitter and Instagram at @SecMartyWalsh.