In the past year, the Wage and Hour Division has held more than 70 listening sessions and met with people representing workers and employers in many industries to identify ways we can improve access to the worker protections and services we provide. Learn more about our plans to address these priorities in 2022.
Here are some of the things we've learned: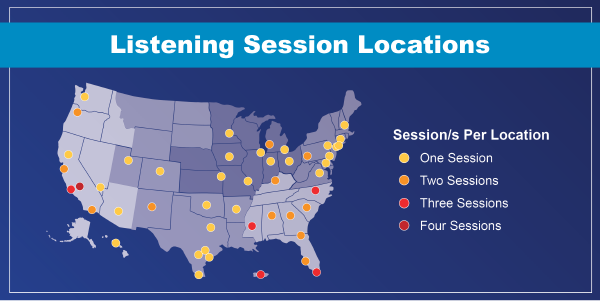 1. Building trust with stakeholders
Workers need to know they can come to us for help. In the Southeast, we heard stakeholders say we could do more to connect with workers and influential community members by:
Building more personal relationships and partnering with trusted people within their communities,
Developing less intimidating outreach materials with limited government branding or co-branded with trusted partners,
Sharing examples of how speaking up can help us enforce the law, and
Emphasizing the confidentiality of our investigations when meeting with workers.
2. Empowering workers against fear of retaliation
For workers, an employer's threats may outweigh the potential benefits of filing a complaint. In the Midwest we heard that workers in agriculture, animal processing and food services often receive threats from employers because they aren't U.S. citizens. It's clear we need to do more to let them know workers are protected from retaliation for reporting issues relating to minimum wage, overtime pay, recordkeeping, lie detector testing, family and medical leave, and youth employment. To empower workers against the fear of retaliation, we plan to:
Continue developing resources to assure workers of their rights and protections,
Assure workers of their rights and our confidentiality when meeting with them,
Share stories and press releases about successful investigations, and
Increase work with foreign consulates and community-based organizations that workers trust.
3. Sharing the facts on misclassification
Ensuring workers have labor standards protections requires that they be classified as employees under the law. Stakeholders in the Southwest said more could be done to help employees in the homecare industry about their rights. To reach workers in that and all industries, we will:
4. Creating accessible outreach materials and resources
Stakeholders in the Western region highlighted the need to offer translated publications in more languages, and develop more accessible materials. For us, that means:
Developing resources with more images and less text, and in different formats,
Meeting workers where you are by advertising in non-English publications, and posting flyers at bus stops, churches and grocery stores, and
Working with native speakers to review our translated materials for accuracy and plain writing.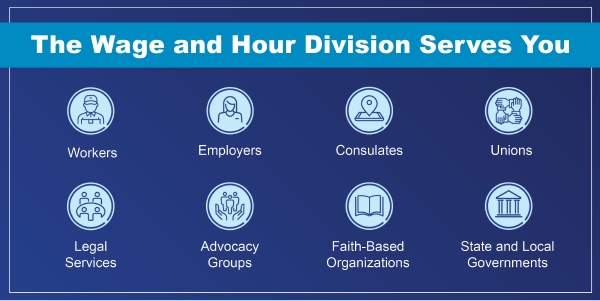 5. Developing more outreach events and partnerships
As a stakeholder in the Northeast explained, if a community leader "doesn't know you are there, then the victims of workplace issues would not know to contact you." With this in mind, we plan to identify more opportunities to collaborate with stakeholders this year and use co-branded materials to connect with workers and influential community members.
We also seek your help and encourage you to share information about our work with your community by:
Have a question about wage and hour laws? Call the division's toll-free help line at 1-866-4-USWAGE (1-866-487-9243) or contact us online.
Jessica Looman is the principal deputy administrator for the U.S. Department of Labor's Wage and Hour Division. Follow the division on Twitter at @WHD_DOL.