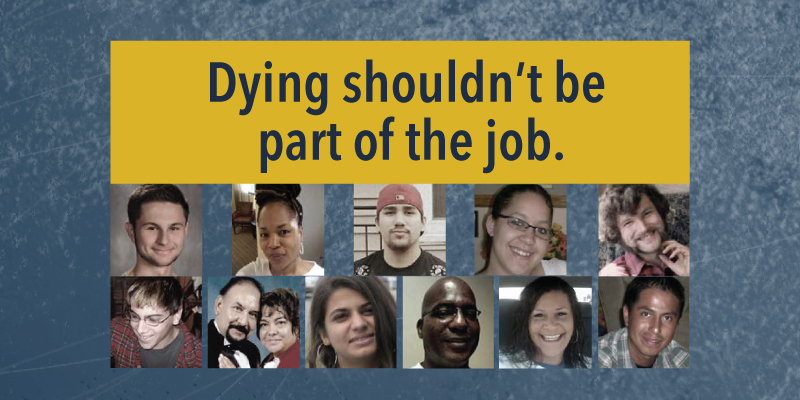 No one should ever have to die simply because they went to work and did their job. Yet, every day in America, an average of 13 people die on the job from a workplace injury. Virtually all those deaths are preventable.
As the head of OSHA, I have the somber and solemn duty to sign condolence letters to families of workers who died on the job. It is not unusual to sign dozens of these letters each week, letters sent to someone who lost a husband, wife, brother, son, daughter or uncle, letting them know that OSHA is committed to investigating the case and answering their questions about why their loved one died. The simple act of reading and signing these letters is a reminder that the nearly 5,000 workers who die from injuries each year are not just statistics. Each death is a tragic loss for a family, a workplace and a community.
If you ask people what they value most in their life, what they really care about, most people will say it is their health, and the health and safety of their loved ones. We hold our families' health and safety as a fundamental, core value. And yet, far too often, we do not live by this value when it comes to how we design, supervise and perform work. Workers pay the price – with their health, and sometimes their life.
Our goal at OSHA, and the intent of the OSH Act, is about aligning this most basic and fundamental personal value – our health and safety – with the core values of every workplace in America. Viewed through this prism, OSHA's mission of preventing workplace injury and illness is not just about keeping workers safe. It is about making sure a child somewhere doesn't have to grow up without a parent, or that when a factory worker retires, their body isn't too worn out from cancer, injury or lung disease to play with their grandchildren. It is about keeping families together and communities intact. This makes OSHA's noble mission profoundly important.
We should expect, even demand, that our workplaces are safe and healthy in the same way that we expect water to be safe to drink and air clean to breath. Many of us spend the majority of our waking hours at work. The workplace is a central part of our lives and our health. We need to ensure that the places where 130,000,000 workers spend at least one-third of their lives are free from hazards.
It's undeniable that great strides have been made for worker safety during the past 50 years, and we should not diminish the improvements OSHA, employers, unions and other worker advocates, and occupational health professionals have made together during those years. However, there is still much work to be done. Even with all our progress, nearly 5,000 people died from work-related injuries in 2020. This is far too many, and it does not include countless others who died because of COVID-19 or chronic occupational disease. We can and must do better.
Today is Workers Memorial Day. For most of us, it is a day to remember those who lost their lives on the job and to recommit ourselves to preventing more loss of life. It is also a solemn day for millions of families and loved ones who share a personal pain that only they know and must face every day for the rest of their lives. There is nothing we can do to heal their pain; we can only mourn with them and find strength knowing their loved one did not die in vain. It's going to take all of us to do more to prevent future loss of life.
While we mourn those lost and remember their lives, we must do so with an eye toward the future and making real change in workplace safety and health. This starts with a core belief that every worker regardless of their job, age, gender, race or the language they speak, should go to work knowing they will be protected from any hazard, and they will return home in the same condition as they left. No one should die or have their body broken by injury or disease because they went to work and did their job.
Doug Parker is the assistant secretary of labor for occupational safety and health. Follow OSHA on Twitter at @OSHA_DOL.