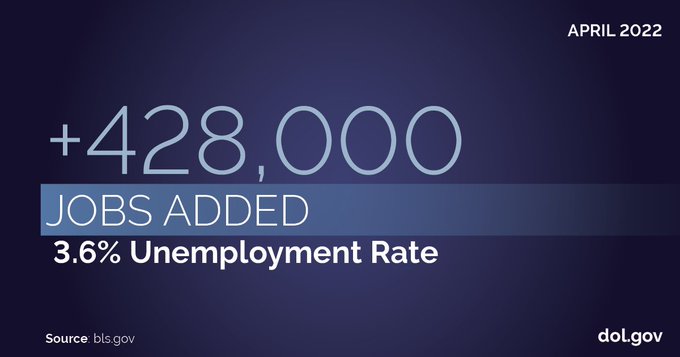 Today, the Bureau of Labor Statistics reported that the American economy added 428,000 jobs in the month of April, and the unemployment rate was 3.6 percent, unchanged from March.
A few facts: 
 
➡️ Since President Joe Biden took office, we've created 8.3 million jobs  
➡️ We've added an average of more than 500,000 new jobs per month in 2022  
➡️ Job growth was widespread across the economy, led by especially strong results for workers in the Leisure and Hospitality, Manufacturing, and Transportation and Warehousing sectors.  
➡️ 95% of the jobs lost during the pandemic are now recovered 
➡️ Insured unemployment is at a historically low level, and labor market disruptions due to COVID-19 are at all-time lows.  

This sustained, powerful job growth continues America's historic, worker-centered recovery under the Biden-Harris Administration, and is good news for America's families.  
The policies driving this job growth are also empowering workers in ways we haven't seen in decades. Record numbers of workers are starting new jobs, increasing their wages, and opening new businesses. The President's Bipartisan Infrastructure Law is beginning to invest in communities and create good jobs throughout the country. Workers are launching union organizing drives across an unprecedented range of industries. At the same time, equity remains a concern; while the unemployment rate among Black workers decreased by 0.3 percentage points in April, it remains nearly double that of white workers.  
At the Department of Labor, we are focused on empowering all workers morning, noon and night to seize this moment and secure the opportunities this historic recovery affords.  
 
Through our Good Jobs Initiative, we are working to ensure that the jobs created in this economy provide good wages and benefits, safe and healthy working conditions, and equitable access to skills training and career advancement in every community of our country.