Collaboration, Coordination and Hard Work: An Update on the Next Phase of our Good Jobs Initiative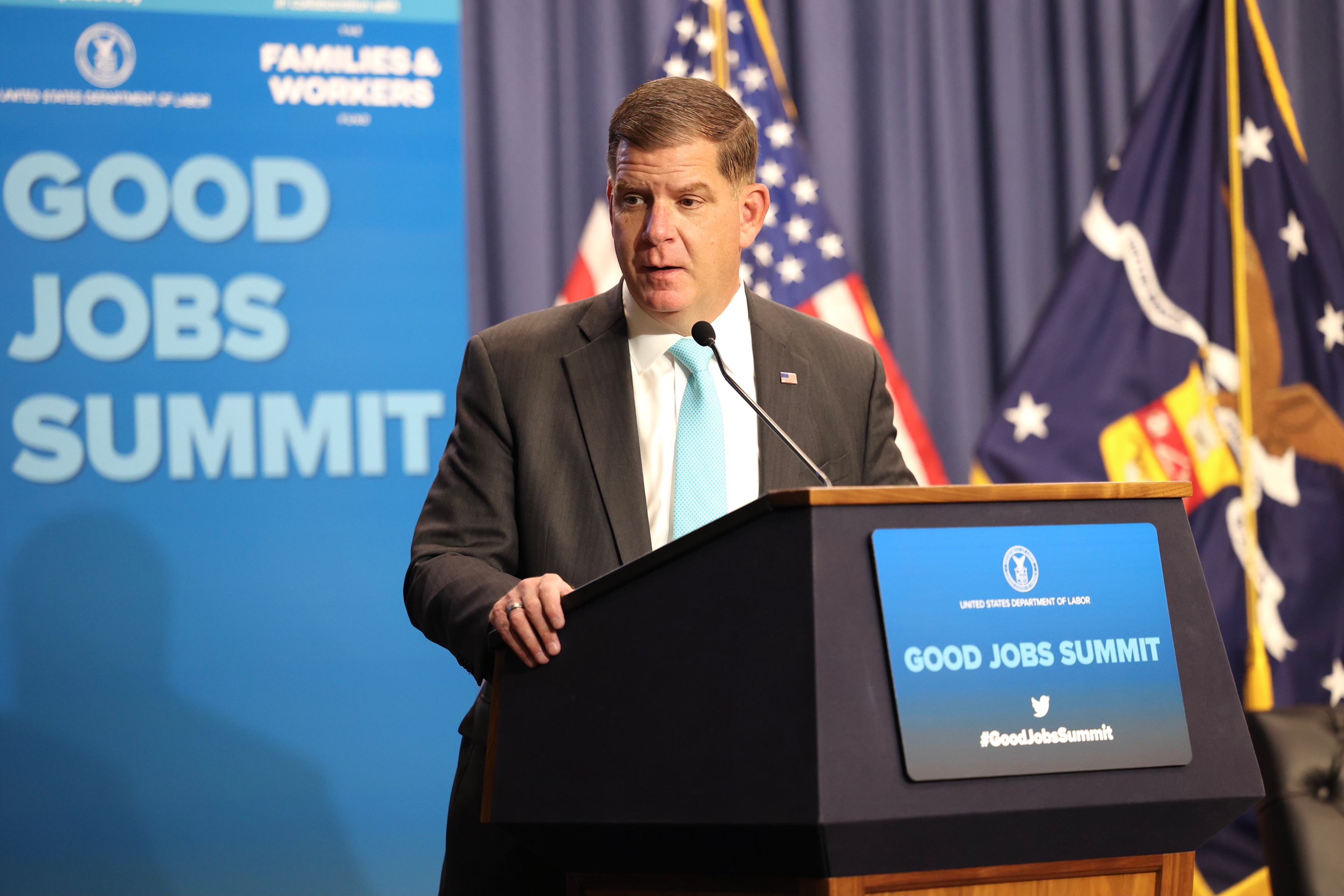 Yesterday, along with the Families and Workers Fund, the U.S. Department of Labor convened leaders from federal, state and local government, labor unions and private sector organizations for our Good Jobs Summit. This all-day event focused on how the federal government is empowering working people through policies that create and support good-quality jobs.  
This group—and the more than 3,850 attendees who joined us in-person and online—represent the partnerships that will rebuild our nation's infrastructure; and address the generational challenges we face: from climate change to global competition to public health and racial justice.  
This summit was an important step forward in that work. Modernizing America's infrastructure requires a workforce that is strong and skilled, local and diverse, empowered and inclusive. And that doesn't happen by accident. It takes planning, collaboration, coordination and hard work. That's what our Good Jobs Initiative is all about.  
This administration is unified around the concept of a good job. President Biden says it all the time: A job is about dignity, respect, and your place in the community. I've seen it in my own life and throughout my career: good jobs change lives and lift up whole families. And we have the opportunity right now to lift up more people than ever before.  
With the president's leadership, we have added 8.7 million jobs to our economy, and labor market participation is strong compared to previous recoveries. Workers are empowered to seek better opportunities, and employers are seeking skilled talent and the right tools to attract and retain that talent. It's a moment of challenge -- and it's a moment of tremendous opportunity.  
At the Department of Labor, when these trends emerged last year, we asked ourselves: How do we meet this moment? How do we sustain this worker power and make it permanent?  How do we help employers provide good jobs and careers across every industry and region of our country? And how do we make sure these jobs are equitable and accessible to every worker – in ways they have not been in the past?  
That's why we announced the Good Jobs Initiative at the start of this year. The purpose of this initiative is to organize and direct all our tools and resources toward the goal of promoting good jobs for all workers.  
The president's Bipartisan Infrastructure Law gave us a historic opportunity to drive this goal deep into the heart of our economy, as we rebuild this country. So far, we have worked in with our federal agency partners to incentivize equity and good jobs in over $50 billion of competitive grant funding.  
We have also engaged employers, both small and large, across the country – learning from and highlighting those who are successfully recruiting and retaining diverse workers in good jobs. Additionally, we have engaged working people, local officials, and unions across the country, on the opportunities we are creating.  
Today's summit marked the next step of our outreach, and also gave me the opportunity to share an exciting new announcement: In close partnership with the Department of Commerce, we have established a set of Good Jobs Principles. 
These principles will provide a framework for creating good jobs through our partnerships and investments moving forward. They can also be used by workers, businesses, labor unions, advocates, researchers, state and local governments, and other federal agencies as they assess and improve the quality of jobs. The Good Jobs Principles are the essential elements of a good job -- from recruitment and hiring to pay and benefits to career advancement and much more. They also prioritize diversity, equity, inclusion and accessibility, since it doesn't matter how attractive a job is, if you face systemic barriers to getting that job or succeeding in that job. That's why we must define a good job as an equitable job.  
I'm grateful to everyone who joined the summit, and for their commitment to this work. I look forward to sharing more updates as we expand the Good Jobs Initiative and put our new Good Jobs Principles to work. 
Marty Walsh is the U.S. Secretary of Labor.