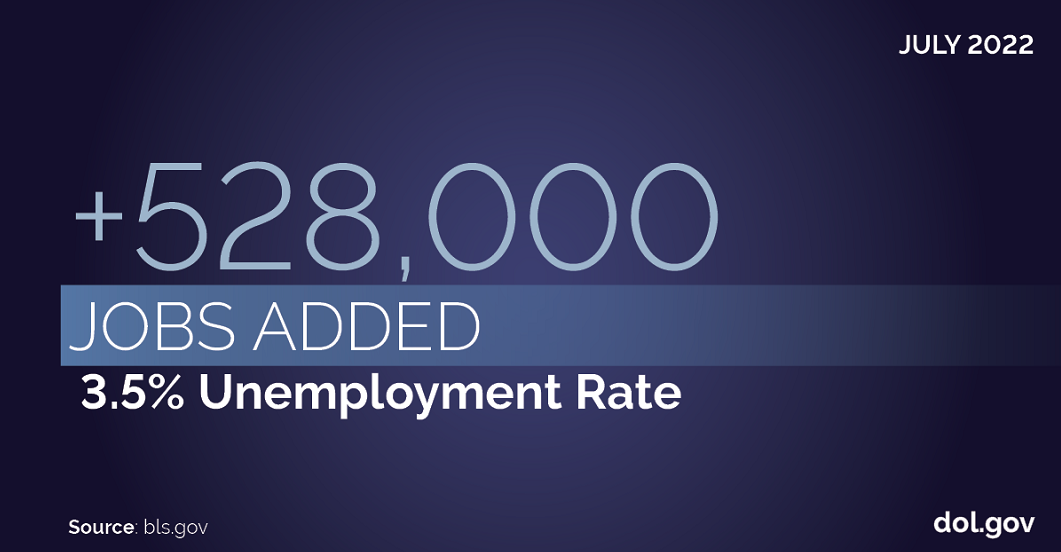 Today, the Bureau of Labor Statistics reported that the American economy added 528,000 jobs in the month of July, and the unemployment rate ticked down to 3.5 percent.  
 
This remarkable and broad-based job growth means that for the first time since the COVID-19 pandemic began, total employment has not only surpassed the level of February 2020 but reached an all-time historic high, while the unemployment rate has matched its pre-pandemic, 53-year low.  
 
Under President Biden's leadership the labor market has fully recovered, and we are creating new jobs through the investments of the Bipartisan Infrastructure Law and more.  
 
CHIPS and Science Act 
This is great news for America's workers – and the outlook grew even brighter this week, as the President prepares to sign the CHIPS and Science Act into law and leaders in Congress announced progress finalizing the Inflation Reduction Act. The CHIPS and Science Act, through investments in research, innovation, and advanced manufacturing, will create high-paying jobs across the country while reducing the price of cars, appliances, computers, and other items that families depend on.  
 
Inflation Reduction Act  
The Inflation Reduction Act, meanwhile, would create good jobs in clean energy production, address the climate crisis, and lower the cost of major household budget items including health insurance, prescription drugs, and energy.  
In this time of historic opportunity, the Department of Labor is focused on empowering all workers by protecting the wages and healthcare they are entitled to, and growing our workforce training partnerships to ensure that all workers, especially those who have been left out of past recoveries, have access to the good jobs we are creating in this economy. 
Marty Walsh is the U.S. Secretary of Labor.