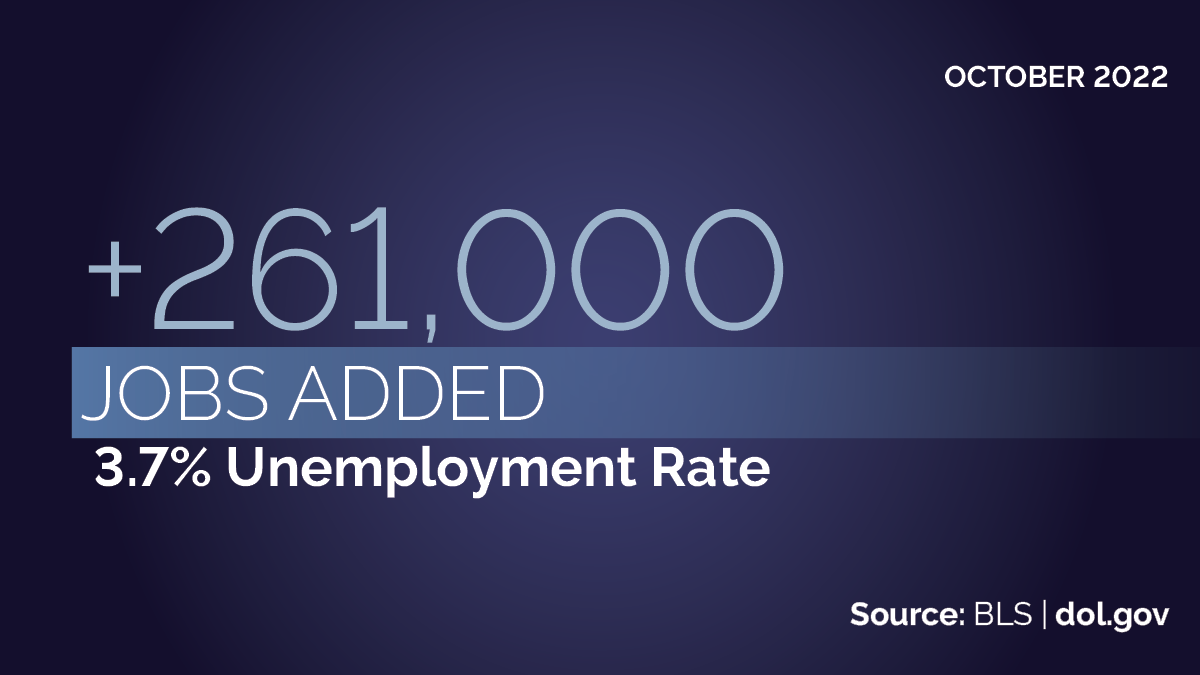 Today, the Bureau of Labor Statistics reported that the American economy added 261,000 jobs in the month of October, and the unemployment rate rose to 3.7% from 3.5%, continuing to remain near historic lows for the past several months. With an average of 289,000 jobs added per month over the past three months, this economy continues to produce steady, stable job growth that benefits workers and their families. 

Growth Across Industries 
October's job gains were broad-based across industries, with notable growth in manufacturing and healthcare. Manufacturing grew by 32,000 jobs in October, continuing the historic resurgence of this blue-collar sector, which now provides 137,000 more jobs than it did before the pandemic. The healthcare sector added 53,000 jobs, including gains in hospital employment, doctors' and dentists' offices, and nursing homes.  
Supporting America's Workers  
The overall economy grew at an annual rate of 2.6% in the third quarter of 2022, and the unemployment rate for much of this year has hovered near historically low levels. As the Biden-Harris administration continues to make job-creating investments in infrastructure, manufacturing, clean energy, healthcare and more, the Department of Labor remains focused on helping all workers succeed and on improving job quality across the economy. Through our Good Jobs Initiative, we will continue to work with government and private-sector partners to make sure workers have equitable access to the in-demand skills they need to take advantage of the opportunities being created in this economy. 
Marty Walsh is the U.S. Secretary of Labor. Follow him on Twitter and Instagram at @SecMartyWalsh.