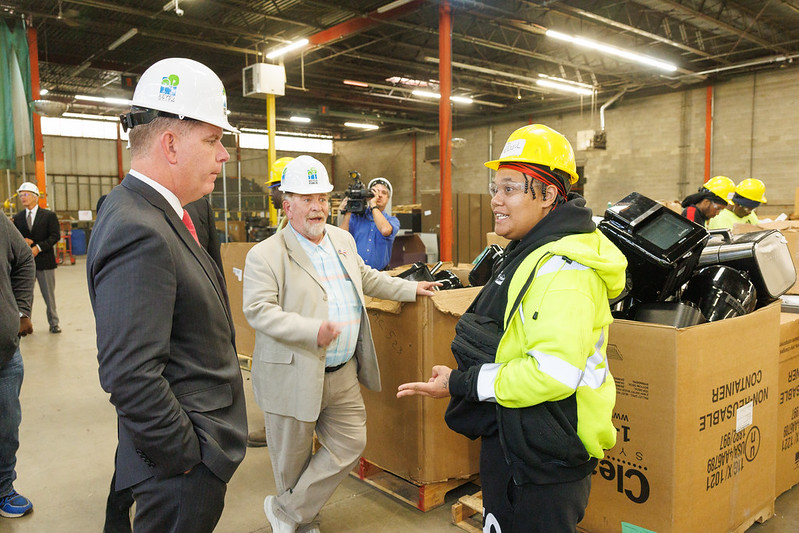 RecycleForce is a U.S. Department of Labor grantee committed to reducing crime through employment and job training, while improving the environment through electronics recycling. Since 2006, RecycleForce safely recycled more than 65 million pounds of electronic waste and provided job training to thousands of citizens returning to their communities from the justice system. 
After Secretary Marty Walsh's visit to RecycleForce in October 2022, we asked founder Gregg Keesling to share more about RecycleForce's work and impact.
Tell us about yourself and RecycleForce. 
RecycleForce is an employment social enterprise that uses transitional jobs to help create a cleaner environment and a stronger workforce. We run one of the largest electronic recycling operations in Indiana, employing and serving men and women returning to their communities after incarceration. We believe in restorative justice – that all people deserve second chances to rebuild their lives and reconnect with their families, and a place where their talents and skills are appreciated and they are paid well. I and my wife Jannett, who leads our sister organization called Keys2Work, have been doing this work for 27 years. Our life's work took on increased purpose when our son, Chancellor, died on June 19, 2009, while on his second deployment in Iraq. Chancellor died by suicide while serving his country with the 961st Engineering Battalion. 
What does preparing a workforce for the future mean to you?
I am excited about the opportunities that lay ahead for those we help gain a second chance. Our country is developing and implementing new technologies designed to combat climate change. An important part of modern workforce development programs is training workers to fill these positions. At RecycleForce, our mission is to find and implement training and credentialing to help those we serve find their spot in climate-focused work – what many call "the green-collar economy." OSHA 10 and 40-hour HAZWOPER and other trainings we offer, as well as the opportunity to use that training working for wages in a transitional job in the RecycleForce employment social enterprise, helps prepare the workers we serve for our country's future.
The Biden-Harris administration has made historic investments to combat climate change. What does that mean to your work?
Improving our environment is a central component of our work. The medical equipment, computers, cell phones and retail returns that we divert from landfills are prepared to be fed back into our manufacturing sectors as copper, steel, aluminum and plastic. When we can recover these items and feed them back into our country's manufacturing sector, we reduce the need to dig and drill for raw materials. For example, 85% of the steel rebar made in Indiana comes from recycled steel. Now, as the electric car market is taking off, we need to recycle the lithium and cobalt used for electric-car batteries. When we can help the people we serve get good-paying jobs to recover these items – and help reduce the need to dig and drill for oil and metals – we help make a cleaner environment and a stronger workforce.
What are some challenges in your work?
Not everyone in our community and not all employers are ready to see the people coming home from incarceration as members of the community and members of their labor force. Restorative justice is hard; yet I am encouraged. In our 27 years of doing this work, we have never experienced greater movement toward the returning citizen as a viable person to fulfill the growing job shortage, nor have we experienced more forgiveness and more resources to help people take advantage of the second chances that the U.S. Department of Labor programs make possible. 
Share successes you have experienced in your work.
I think of individuals like Herbert White, who served 17 years in prison. His parole officer helped him sign on with RecycleForce. During his time in the program, White accumulated 15 certificates in areas such as OSHA 10, radiation detection, HAZWOPER 40, personal protective equipment use, and peer mentoring.
White found a good-paying job recycling tech parts using the skills he learned in our programs. White said, "If you work the RecycleForce program properly, it will help you. That means going all in. It will give you the training and knowledge you need to get that better job."