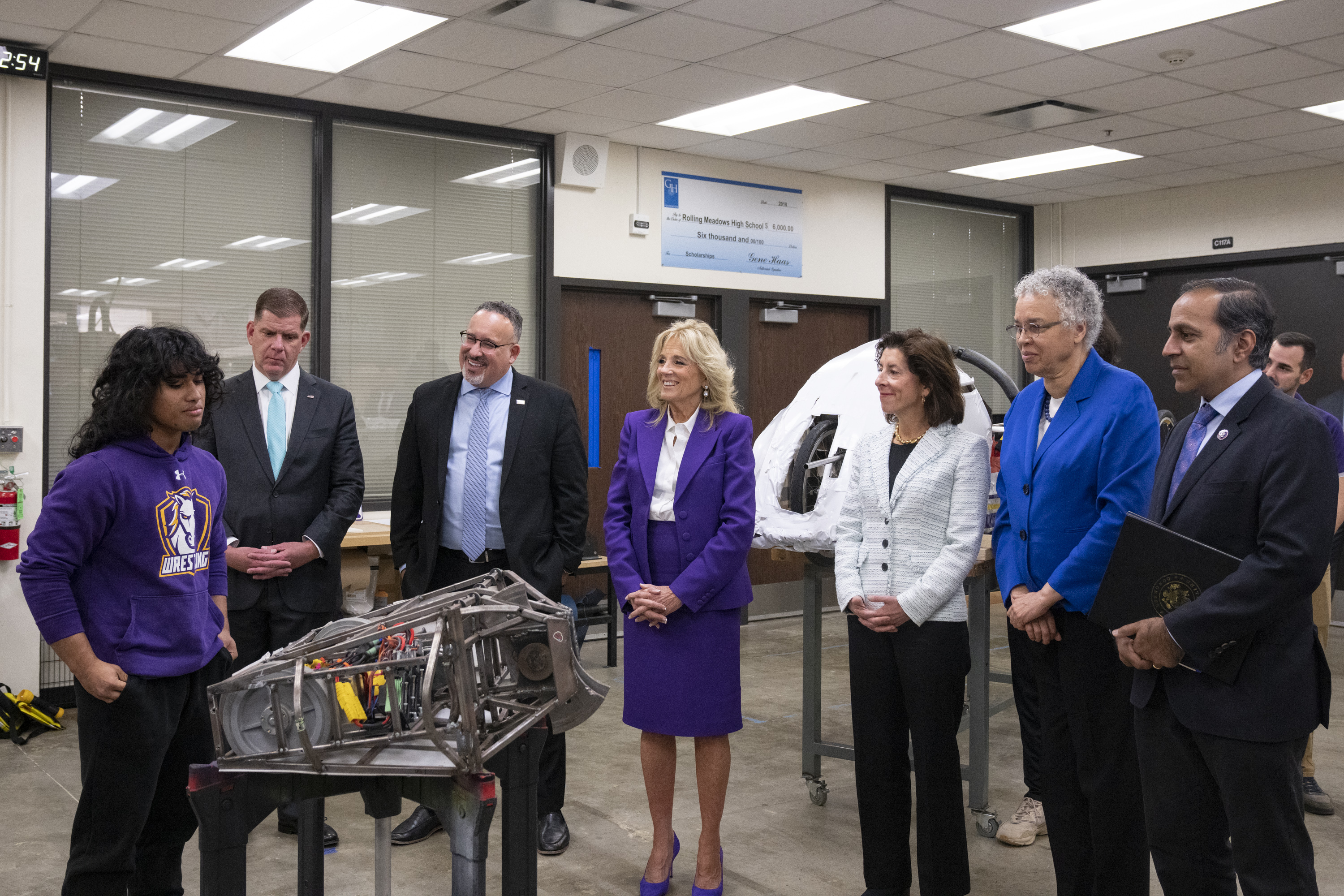 I love National Apprenticeship Week because it gives me a chance to share something that I've believed in and championed for my entire career: Registered Apprenticeship changes lives and strengthens our economy. This year's National Apprenticeship Week, Nov. 14-20, was the biggest one yet with over 350 proclamations and 1,380 events! Businesses are increasingly demonstrating their support for Registered Apprenticeship as a talent pipeline into their industry. Mayors, governors and other leaders have been spreading the word about the value of Registered Apprenticeship in transforming their communities.  
This administration believes in the power of Registered Apprenticeship. It is a pathway to high quality, good-paying jobs, and plays a critical role in expanding opportunities in our workforce that are inclusive of individuals who have been historically underserved, marginalized and adversely affected by persistent poverty and inequality 
I had the pleasure this past week  of meeting several apprentices. Last Monday I met Terionna, a second-year apprentice at Aon in Chicago. Prior to her current role, she was a warehouse associate, living paycheck-to-paycheck, not sure how to balance work with education. As an Aon apprentice, she's not only earning an income with employee benefits, she's also earning an associate degree in business and expanding her professional network. She told me she felt "stable and blessed" and credited the apprenticeship program for improving her – and her family's – lives.
Other highlights from this National Apprenticeship Week include:
Joining the first lady to celebrate apprenticeship in Chicago. On Monday, I joined First Lady Jill Biden, Secretary of Commerce Gina Raimondo, Secretary of Education Miguel Cardona, and hundreds of employer members of the Business Roundtable and the Chicago Apprenticeship Network at an event hosted by Aon to discuss the benefits of Registered Apprenticeship in retaining and recruiting workers. You can watch a recording of the event here.  
Celebrating the success of the 120-Day Cybersecurity Apprenticeship Sprint. The White House released a fact sheet summarizing the sprint's successes, which included approximately 200 new cybersecurity programs approved or under development and the hiring of over nearly 8,000 (7,954) apprentices in critical cybersecurity jobs. Organizations that launched new programs include Boeing, Cisco Systems, Cyversity, McDonalds, Manpower Group, NPower, the U.S. Department of Veterans Affairs and many more.
Celebrating the second National Women in Apprenticeship Day. There were many events across the country celebrating the occasion. The Women's Bureau hosted a webinar on "Women in Apprenticeship: Building Our Power," during which director Wendy Chun-Hoon moderated a discussion on how the Infrastructure Investment and Jobs act can promote gender equity in apprenticeships. Also, Deputy Secretary Julie Su visited the Hospitality Training Academy in Los Angeles to see how its Registered Apprenticeship programs are providing workers – especially women of color – the training and skills they need to secure good union jobs.
Releasing a new interactive data visualization map. This map allows the public to view key statistics on Registered Apprenticeship programs and new, active and graduate apprentices. It also allows users to drill down into multiple demographic categories. This will help us even better understand where there are opportunities for growth and where improvements in equity are needed.  
Sharing the results of the American Apprenticeship Initiative (AAI) evaluations. These evaluations included four sub-studies of the AAI grant: an implementation study; an outcomes study; an employer return-on-investment (ROI) study; and a pilot test of a strategy to encourage employers to adopt Registered Apprenticeship. 
Announcing the upcoming launch of the Apprentice Trailblazer Initiative. This initiative will give youth apprentices and recent youth apprenticeship graduates a platform to share their perspectives, experience, and success stories to help promote, diversify and expand Registered Apprenticeship. 
We look forward to sharing more highlights in the coming weeks, and in the meantime, you can visit our social media wall to see more from #NAW2022.
Visit Apprenticeship.gov to learn how to start an apprenticeship program, find apprenticeship opportunities, explore resources for educators and more.

Marty Walsh is the U.S. secretary of labor. Follow him on Twitter and Instagram at @SecMartyWalsh.