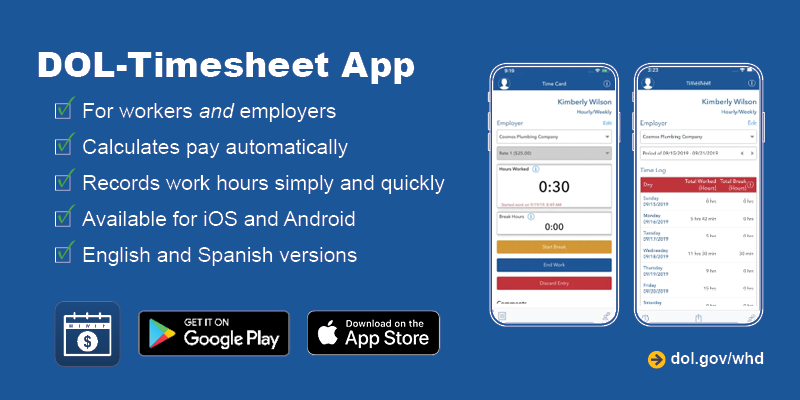 The Wage and Hour Division of the U.S. Department of Labor (WHD) is committed to providing resources to empower workers and tools that help employers comply with wage and hour requirements. 
The free DOL-Timesheet App is now available in Spanish on Android and Apple devices. Thanks to collaboration between the Department of Labor's Wage and Hour Division and the Office of the Chief Information Officer, workers and employers can download this updated app to record regular work hours, overtime hours, breaks and more. 
With multiple pay frequency options, comments capabilities, and detailed pay calculations, the app is a great tool to address problems that can cause inaccurate hours records and short paychecks. 
Consider a few real-life scenarios: 
You can't clock in because your employer's time clock broke shortly before your shift. 

A technical glitch caused your employer's timekeeping website to malfunction. 
Your supervisor sometimes loses or misinterprets the paperwork where your hours are recorded. 

You think that your employer may not be counting or paying for all the time you spend working. 

You just want to know how much you are working and how much you are earning.  
If you find yourself in any of these situations, the DOL-Timesheet App could be the tool you need to track your own hours and ensure you're being paid all your hard-earned wages. The hours and pay records you create could become useful in a dispute over how much you've worked and what you're owed. 
Even if you're confident in your employer's timekeeping system, our app is useful to workers who like to know what to expect on an upcoming paycheck. The app makes detailed earnings calculations easy for those who like to create a budget and plan ahead. 
The DOL-Timesheet App is also available for Spanish-speaking workers and employers. For workers who are paid in multiple ways – such as hourly pay, salaries and piece rate pay – the app can be a convenient way to keep track of it all. 
Now that the updated DOL-Timesheet App is available in Spanish for Android and iPhone users alike, it's never been easier to track work hours, break times and pay. Whether you're a worker or an employer, the app is a handy tool to stay organized on the job. Download it today! 
Kristin  García is the chief of staff for the Department of Labor's Wage and Hour Division. Follow the division on Twitter at @WHD_DOL. 
DOL-Hoja de Tiempo: ¡Ahora disponible en español!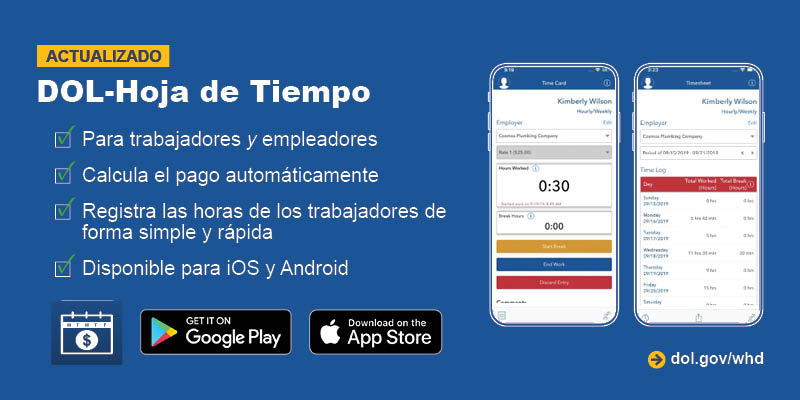 La División de Horas y Salarios del Departamento de Trabajo de EE. UU. (WHD, por sus siglas en inglés) se compromete a brindar recursos para empoderar a los trabajadores y brindarles herramientas que ayuden a los empleadores a cumplir con los requisitos laborales. 
La aplicación gratuita DOL-Hoja de Tiempo ahora está disponible en español en dispositivos Android y Apple. Gracias a la colaboración entre la División de Horas y Salarios del Departamento de Trabajo y la Oficina del Director de Informática, información los trabajadores y empleadores pueden descargar esta aplicación actualizada para registrar las horas de trabajo, sobretiempo, descansos y más. 
Con múltiples opciones de frecuencia de pago, capacidades para dejar comentarios y cálculos de pago detallados, la aplicación es una gran herramienta para abordar problemas que pueden causar registros de horarios inexactos y pagos insuficientes. 
Considere algunas situaciones de la vida real: 
No puede marcar su entrada porque el reloj de su empleador se descompuso justo antes de su turno. 

Un problema técnico provocó que la página de internet del registro de horas de trabajo de su empleador no funcionara correctamente.  

Su supervisor a veces pierde o malinterpreta la documentación donde se registran sus horas. 
Piensa que su empleador a lo mejor  no está contando o pagando todas las horas que usted trabaja. 

Solo quiere saber cuánto está trabajando y cuánto está ganado.  
Si se encuentra en alguna de estas situaciones, la aplicación DOL-Timesheet podría ser la herramienta que necesita para llevar un seguimiento de sus propias horas y asegurarse de que se le paguen todos los sueldos que ha ganado con esfuerzo. Los registros de horas y pagos que cree podrían ser útiles en una disputa sobre cuánto ha trabajado y cuánto se le debe. 
Incluso si confía en el sistema de registro de horas de su empleador, nuestra aplicación es útil para los trabajadores que desean saber qué esperar en un pago futuro. La aplicación facilita los cálculos detallados de ganancias para quienes desean crear un presupuesto y planificar con anticipación. 
La aplicación DOL-Timesheet también está disponible para trabajadores y empleadores que hablan español. Para los trabajadores que son pagados de varias maneras, como por hora, salarios y por pieza, la aplicación puede ser una forma conveniente de llevar seguimiento de todo. 
Ahora que la aplicación DOL-Timesheet actualizada está disponible en español para usuarios de Android y iPhone, nunca ha sido tan fácil llevar seguimiento de las horas trabajadas, los tiempos de descanso y el pago. Ya sea que sea un trabajador o un empleador, la aplicación es una herramienta útil para mantenerse organizado en el trabajo. ¡Descárguela hoy! 
Kristin Garcia es la jefa de personal de la División de Horas y Salarios del Departamento de Trabajo. Siga a la división en Twitter en @WHD_DOL.