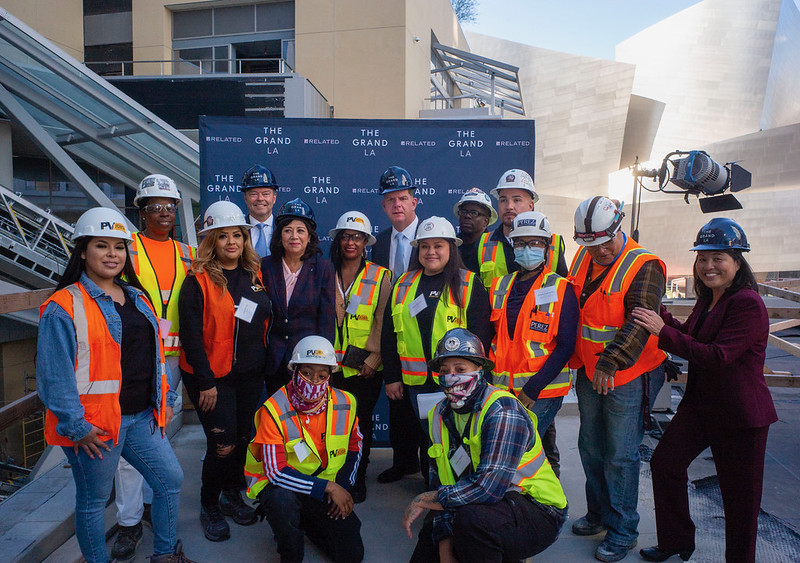 Editor's Note: This is part of a blog series by the Office of Labor-Management Standards on the various ways unions support workers. In November, OLMS Director Jeffrey Freund wrote about how unions serve the interests of members and non-members alike "beyond the bargaining table." Today's piece looks at labor union-sponsored pre-apprenticeship programs.  
What are pre-apprenticeships?
Pre-apprenticeships bridge skill gaps to help participants who are not employment-ready learn both skills they need to qualify for entry into high-quality registered apprenticeship programs and the competencies to successfully complete those apprenticeships.  These programs most often target job seekers such as young adults, women, and other populations who face obstacles to access high quality employment and in in-demand occupations. By helping build essential skills – such as math, time management, and computer and financial literacy – and connecting them to supportive services such as transportation, childcare, or others, high quality pre-apprenticeships provide a solid foundation needed for the successful completion of registered apprenticeship programs.  
Union support for pre-apprenticeships  
Labor union sponsorship for pre-apprenticeships is not new – especially in the construction trades. North America's Building Trades Union, a federation of 14 member unions, has a long history of supporting construction pre-apprenticeships.  Over 15 years ago, the federation created a "common core curriculum" for building and construction trades pre-apprenticeship training programs commonly known as MC3. They did this by identifying the essential elements from all building trades' apprenticeship programs that were not particular to any one trade.  General skills such as blueprint reading, safety, and even how to interview for jobs, are among the core elements included.  Union members and leaders often are the teachers in pre-apprenticeship classrooms providing hands-on instruction, as well as mentorship to participants – and have been doing so for many years.  The MC3 has been implemented in programs throughout the country. For example, the Boston Building Pathways pre-apprenticeship program helps individuals learn more about the industry, develop skills, and be more competitive in union apprenticeship programs. 
Building Futures: a pathway to the middle class in central Ohio 
Unions are behind several innovative pre-apprenticeship programs launched in recent years. Take the Building Futures program in Franklin County, Ohio,a 12-week program that teaches unemployed and underemployed workers basic skills needed to qualify for entry into building trade apprenticeship programs – where they can then train for in-demand construction trades. Building Futures' program includes instruction in basic construction skills, exposure to different trades, and general life skills – such as reading, math, and computer and financial literacy – providing the foundation for participants to enter and successfully complete more comprehensive and specialized apprenticeship programs in carpentry, electrical work, plumbing, and other trades. 
 
Building Futures is a partnership between the Columbus Building Trades Council and the Franklin County government and is administered by the Columbus Urban League. The program got off the ground in 2017 when community and NAACP leaders came together to address the underrepresentation of Black, Latino and women in the predominantly white male local building and construction trades workforce. Leland Bass, Building Futures Program Manager, recalled that "In the early days, there was distrust among some of the partners. But by agreeing to communicate and commit to what was best for the greater community, they overcame those tensions to build something special."   
 
Building Futures and other similar programs exemplify how pre-apprenticeships can create life-transforming opportunities for people who face barriers to employment and are underrepresented in construction. Notably, almost half of the program graduates are or have been justice-involved.  And earlier this year, the program graduated its first all-female cohort of 13 women.  After completing subsequent apprenticeships, Building Futures graduates can secure good-paying union jobs with benefits in the building and construction trades – truly a pathway to the middle class.  And with more skilled tradespeople in the labor force, employers can fill in-demand construction jobs, helping spur economic development in Central Ohio. 
Mr. Bass credits the graduates, and their many success stories, as the best advertisement for the program, which has a sizeable waitlist. The program's first few years produced 50-60 graduates annually. In this current 2022-2023 program year, the goal is to graduate 400 workers.  
 
Building Futures is only one example of a union-backed pre-apprenticeship program that provides men and women a bridge to more, and better, employment opportunities. Apprenticeship graduates finish with trade-specific credentials and skills that are in demand by many employers. Graduates are well-positioned to find good jobs, stable employment, and career-advancing opportunities; data maintained by the Department of Labor's Office of Apprenticeship shows that persons who complete registered apprenticeships earn annual average wages of $77,000.  Moreover, a recent evaluation study prepared for the Department's Employment and Training Administration presents further evidence that pre-apprenticeship programs are effective. Among the study's key findings, 81 percent of pre-apprentices completed their programs, 63 percent continued to a registered apprenticeship program, and 83 percent of pre-apprentices were employed after their programs ended. 
 
Interested in learning more about pre-apprenticeships?  We invite you to visit www.apprenticeship.gov, the Department of Labor's one-stop shop for information on pre-apprenticeships and registered apprenticeship programs. We also invite you to stop by the Office of Labor-Management Standards website to learn about our work to advance democracy and integrity among over 20,000 labor organizations in the United States.
 
This blog contains links to information created and maintained by other public and private organizations. Please be aware that the U.S. Dept. of Labor does not control or guarantee the accuracy, relevance, timeliness, or completeness of this outside information. Further, the inclusion of links to particular items is not intended to reflect their importance, nor is it intended to endorse any views expressed or products or services offered by the author of the reference or the organization operating the site on which the reference is maintained. 
---
Mas allá de la negociación laboral: Pre-Aprendizajes
Por: Office of Labor-Management Standards
Nota de la redacción: Este blog hace parte de una serie de la Oficina de Normas de Gestión Laboral (OLMS) sobre las diversas maneras en que los sindicatos apoyan a los trabajadores. En noviembre, el director de la OLMS, Jeffrey Freund, escribió sobre cómo los sindicatos sirven por igual los intereses de miembros y no miembros "más allá de la negociación laboral". Este artículo analiza los programas de pre-aprendizaje que los sindicatos patrocinan.
¿Qué son los pre-aprendizajes?
Los pre-aprendizajes acortan las brechas de habilidades para ayudar a que participantes que aún no están preparados para empleo aprendan tanto las destrezas que necesitan para poder ingresar a programas de aprendizajes registrados de mucha calidad, así como las competencias para completarlos con éxito. En la mayoría de las ocasiones, estos programas están enfocados en personas que buscan empleo, como adultos jóvenes, mujeres y otras poblaciones que enfrentan obstáculos para acceder a empleos de alta calidad y a ocupaciones en demanda. Al ayudar al desarrollo de habilidades esenciales como matemáticas, manejo del tiempo y conocimientos informáticos y financieros, y al conectarlos con servicios de apoyo como transporte, cuidado de niños y otros, los programas de pre-aprendizajes de alta calidad ofrecen una sólida y necesaria base para completar con éxito los programas de aprendizajes registrados.
Apoyo sindical a los pre-aprendizajes
El patrocinio sindical a programas de pre-aprendizajes no es nuevo, especialmente en oficios de la construcción. El Sindicato de Trabajadores de la Construcción de América del Norte -una federación de 14 sindicatos- tiene una larga historia de apoyo a estos pre-aprendizajes. La federación creo hace ya más de 15 años un "plan común de estudios básicos" conocido como MC3 para programas de entrenamiento para pre-aprendizajes en construcción y sus oficios. Lo hizo identificando los elementos esenciales de todos los programas de aprendizajes de la construcción no exclusivos a un oficio en concreto. Habilidades generales como lectura de planos, seguridad e incluso sobre cómo realizar entrevistas de trabajo son algunos de los elementos incluidos. Los miembros y líderes sindicales a menudo son los maestros que ofrecen la instrucción práctica, así como mentoría a los participantes. Es algo que han estado haciendo por muchos años. El MC3 se ha implementado en programas por todo el país. Por ejemplo, el programa de pre-aprendizaje Boston Building Pathways ayuda a sus participantes a aprender más sobre la industria, a desarrollar habilidades y a ser más competitivos en estos programas sindicales.
Building Futures: un camino hacia la clase media en el centro de Ohio
Los sindicatos están detrás de varios programas innovadores de pre-aprendizajes lanzados en años recientes. Está por ejemplo el de Building Futures del condado de Franklin, Ohio, un programa de 12 semanas que enseña a trabajadores desempleados y subempleados habilidades básicas necesarias para poder calificar al ingreso a programas de aprendizaje de oficios de la construcción, pudiendo así capacitarse para trabajos en demanda. El Building Futures incluye instrucción en habilidades básicas de construcción, exposición a diferentes oficios y destrezas generales para la vida como lectura, matemáticas y conocimientos informáticos y financieros, proporcionando con ello la base para que los participantes ingresen y completen con éxito programas de aprendizaje más completos y especializados en carpintería, electricidad, plomería y otros oficios.
Building Futures es fruto de una asociación entre el Columbus Building Trades Council y el gobierno del condado de Franklin, y lo administra la Columbus Urban League. El programa se puso en marcha en 2017 cuando líderes de la comunidad y de la NAACP se unieron para abordar la insuficiente representación de negros, latinos y mujeres en la fuerza laboral local en los oficios de la construcción. Leland Bass, gerente del Building Futures, recuerda que "al principio hubo desconfianza entre algunos de los socios. Pero superaron esas tensiones comprometiéndose a hablar y centrándose en lo que era mejor para la comunidad".
Building Futures y otros programas similares ejemplifican cómo los pre-aprendizajes pueden crear oportunidades transformadoras en la vida de personas que enfrentan barreras para obtener empleo y que están subrepresentadas. Casi la mitad de los graduados están o han estado involucrados en causas judiciales. Y a principios de este año, se graduó su primer grupo distintivo de 13 mujeres. Después de completar aprendizajes subsiguientes, los graduados de Building Futures pueden obtener trabajos sindicalizados bien remunerados y con beneficios en construcción, constituyendo un verdadero camino hacia la clase media. Y con más trabajadores calificados en la fuerza laboral, los empleadores pueden cubrir los puestos de trabajo que demandan, ayudando así a impulsar el desarrollo económico del centro de Ohio.
Bass explica que los graduados y sus muchas historias de éxito son la mejor publicidad del programa, que tiene una considerable lista de espera. Los primeros años, el programa produjo entre 50 y 60 graduados cada año. En el actual curso 2022-2023, la meta es graduar a 400 trabajadores.
Building Futures es solo un ejemplo de programas de pre-aprendizajes respaldados por sindicatos que brindan a hombres y mujeres un puente hacia más y mejores oportunidades de empleo. Los graduados terminan con credenciales y habilidades específicas que demandan muchos empleadores. Los graduados están bien posicionados para encontrar buenos trabajos, empleo estable y oportunidades de avance profesional. Los datos de la Oficina de Aprendizaje del Departamento de Trabajo muestran que los que completan aprendizajes registrados ganan un salario anual promedio de $77,000.  Además, un reciente estudio preparado para la Administración de Capacitación y Empleo del departamento evidencia también la efectividad de los programas de pre-aprendizajes. Entre los hallazgos clave del estudio: el 81 por ciento de los pre-aprendices completaron sus programas, el 63 por ciento continuó con un programa de aprendizaje registrado y el 83 por ciento de los pre-aprendices encontraron empleo al terminar sus programas.
¿Está interesado en obtener más información? Te invitamos a visitar www.apprenticeship.gov, la ventanilla única del Departamento de Trabajo para obtener información sobre programas de pre-aprendizajes y aprendizajes registrados. También lo invitamos a pasar por el sitio web de la Oficina de Normas de Gestión Laboral para conocer nuestro trabajo de promoción de la democracia e integridad entre más de 20,000 organizaciones sindicales en Estados Unidos.
Este blog contiene enlaces a información creados y mantenida por otras organizaciones públicas y privadas. Tenga en cuenta que el Departamento de Trabajo de EE.UU. no controla ni garantiza la exactitud, relevancia, oportunidad o integridad de esta información externa. Además, la inclusión de enlaces a elementos particulares no pretende reflejar su importancia, ni respaldar las opiniones expresadas o los productos o servicios ofrecidos por el autor de la referencia o la organización que opera el sitio en el que se mantiene la referencia.