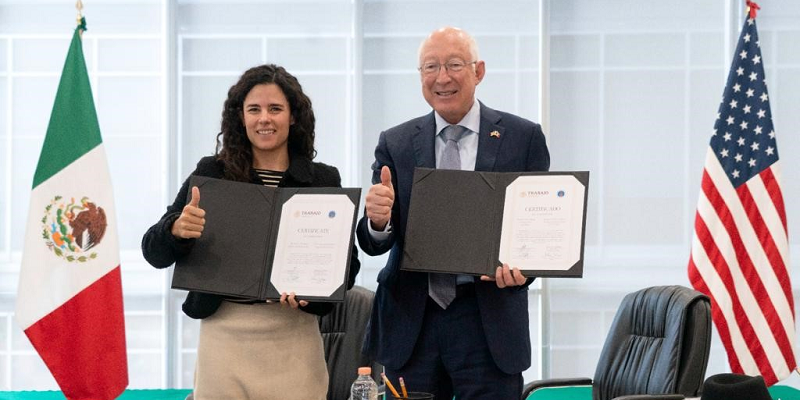 On March 13, I had the honor of joining Mexico Secretary of Labor and Social Welfare Luisa María Alcalde, U.S. Ambassador to Mexico Ken Salazar and Wage and Hour Division Principal Deputy Administrator Jessica Looman for the launch of the U.S.-Mexico Return of Migrant Wages Pilot Program. The pilot will allow Mexico and the U.S. Department of Labor to share information and coordinate efforts to return earned back wages collected by the department's Wage and Hour Division to Mexican migrant workers who were in the United States under our H-2A agricultural visa program.
This pilot program is an excellent example of how we can provide concrete benefits to migrant workers by enforcing U.S. labor laws. Following the recently signed U.S.-Mexico Labor Mobility Memorandum, which strengthens protections for workers participating in temporary foreign worker programs, the pilot program demonstrates the shared commitment by the Department of Labor and the Mexican government to develop the tools necessary to give workers on both sides of the border the protections they deserve under our labor laws.  
The Department of Labor built a strong relationship with Mexico's Secretariat of Labor and Social Welfare through close collaboration in advancing labor rights under the U.S.-Mexico-Canada Agreement. This work built the trust and commitment needed to establish the program, and this signing event was a first step in what we expect will be a long and productive collaboration.  
The Wage and Hour Division has already identified approximately 13,000 Mexican H-2A workers who are collectively owed $6.5 million but we have been unable to locate them. With the pilot in place, the division and Mexico's Secretariat of Labor and Social Welfare will immediately begin to share information to help identify workers who earned wages in the United States but may have returned to Mexico.  
H-2A workers identified through the program will be directed to the division's public database, Workers Owed Wages, where they can search for a company and view if they are owed wages. The database is also available in Spanish and can be translated into indigenous languages. Back wages are held for three years while we try to locate workers. After three years, we are required to send the money to the U.S. Treasury.  
As part of the pilot, the U.S. Department of Labor and Mexico's Secretariat of Labor and Social Welfare will also collaborate on outreach campaigns to raise awareness about the program and support workers in navigating the wages owed database.  
Editor's note: If you think you or someone you know may be eligible for back wages, visit the Workers Owed Wages site or call our toll-free hotline at 1-866-487-9243 (1-866-4-USWAGE). Questions can be answered in over 200 languages regardless of immigration status.  
Thea Mei Lee is the deputy undersecretary for international affairs. Follow ILAB on Twitter at @ILAB_DOL.
---
Devolviendo lo que se le debe a Trabajadores Migrantes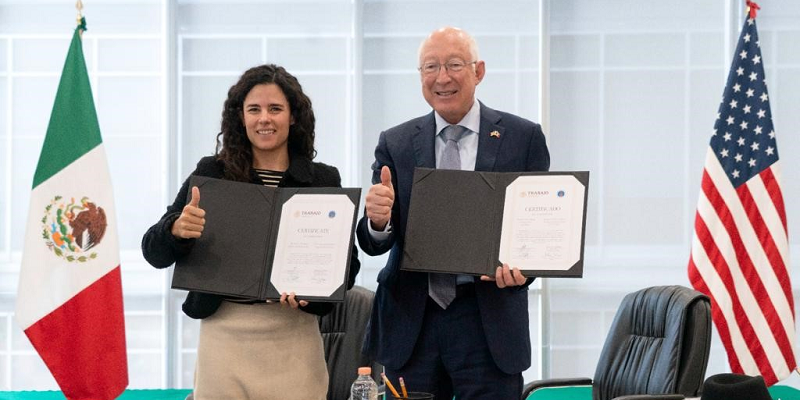 El 13 de marzo, tuve el honor de unirme a la Secretaria del Trabajo y Previsión Social de México, Luisa María Alcalde, el Embajador de los Estados Unidos en México, Ken Salazar, y la Administradora Adjunta Principal de la División de Horas y Salarios, Jessica Looman, para el lanzamiento del Programa Piloto de Retorno de Salarios de Migrantes Mexico-Estados Unidos. El programa piloto permitirá que México y el Departamento de Trabajo de los Estados Unidos compartan información y coordinen esfuerzos para devolver los salarios adeudados recaudados por la División de Horas y Salarios del departamento a los trabajadores migrantes mexicanos que estuvieron en los Estados Unidos bajo nuestro programa de visa agrícola H-2A.  
Este programa piloto es un excelente ejemplo de cómo podemos brindar beneficios concretos a los trabajadores migrantes al hacer cumplir las leyes laborales de los Estados Unidos. Siguiendo el Memorando de Movilidad Laboral entre Estados Unidos y México recientemente firmado, que fortalece las protecciones para los trabajadores que participan en programas de trabajadores extranjeros temporales, el programa piloto demuestra el compromiso compartido por el Departamento del Trabajo y el gobierno mexicano para desarrollar las herramientas necesarias para brindar a los trabajadores de ambos lados de la frontera las protecciones que merecen bajo nuestras leyes laborales. 
El Departamento del Trabajo construyó una relación sólida con la Secretaría del Trabajo y Previsión Social de México a través de una estrecha colaboración para promover los derechos laborales en virtud del Acuerdo entre Estados Unidos, México y Canadá. Este trabajo generó la confianza y el compromiso necesario para establecer el programa, y ​​este evento de firma fue un primer paso en lo que esperamos sea una colaboración larga y productiva 
La División de Horas y Salarios ya ha identificado a aproximadamente 13,000 trabajadores mexicanos H-2A a quienes se les debe colectivamente $6.5 millones, pero no hemos podido localizarlos. Con el piloto implementado, la división y la Secretaría del Trabajo y Previsión Social de México comenzarán a compartir información de inmediato para ayudar a identificar a los trabajadores que ganaron salarios en los Estados Unidos pero que pueden haber regresado a México. 
Los trabajadores H-2A identificados a través del programa serán dirigidos a la base de datos pública de la división, Workers Owed Wages, donde pueden buscar una empresa y ver si se les adeudan salarios. La base de datos también está disponible en español y se puede traducir a idiomas indígenas. Los salarios atrasados ​​se retienen durante tres años mientras tratamos de ubicar a los trabajadores. Después de tres años, estamos obligados a enviar el dinero al Tesoro de los Estados Unidos 
Como parte del programa piloto, el Departamento del Trabajo de los Estados Unidos y la Secretaría del Trabajo y Previsión Social de México también colaborarán en campañas de divulgación para crear conciencia sobre el programa y ayudar a los trabajadores a navegar la base de datos de salarios adeudados. 
Nota del editor: Si cree que usted o alguien que conoce puede ser elegible para recibir salarios atrasados, visite Workers Owed Wages o llame a nuestra línea directa gratuita al 1-866-487-9243 (1-866-4-USWAGE). Las preguntas se pueden responder en más de 200 idiomas, independientemente del estado migratorio. 
Thea Mei Lee es la subsecretaria adjunta de asuntos internacionales. Siga a ILAB en Twitter @ILAB_DOL.