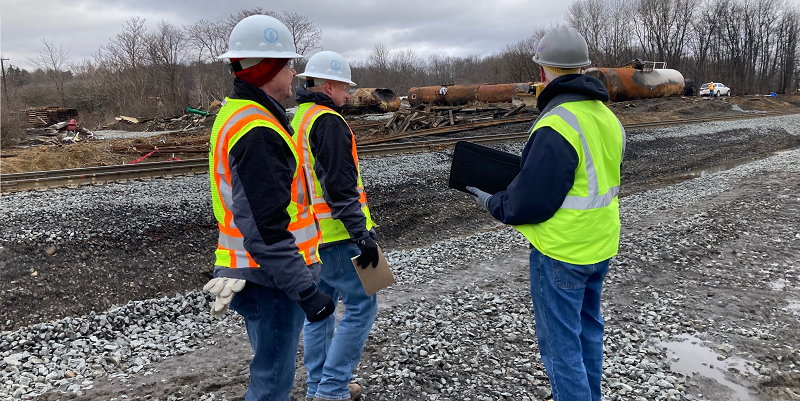 The U.S. Department of Labor's Occupational Safety and Health Administration and the U.S. Department of Transportation's Federal Railroad Administration are increasing our collaboration and working together to protect the safety and health of railroad workers in light of recent events.
The Feb. 3 derailment of a Norfolk Southern train in East Palestine, Ohio, along with another derailment on March 5 near Springfield and an accident in Cleveland on March 7 resulting in the death of a train conductor, underscore the importance of safety in the railroad industry. The railroad industry has a duty to actively protect the safety of its employees, passengers and the communities through which its trains run.
The departments of Transportation and Labor expect all rail employers to not only adhere to all safety rules and regulations, but also empower employees and respect their right to report safety issues without fear of retaliation. Rail employees and their unions must be a part of the conversation.
To that end, rail operators must comply with regulatory requirements and should follow best practices including:
Participating in the Federal Railroad Administration's Confidential Close Call Reporting System.

Restoring and reinvigorating labor-management occupational health and safety committees with full union participation and anti-retaliation protections.

Providing the proper tools and controls (like needed personal protective equipment) for workers and encouraging them to use these resources to be successful and safe.

Ensuring that managers and workers understand that retaliation against employees for reporting hazards and unsafe conditions is illegal, and that workers know they may pursue a whistleblower complaint with OSHA or DOT if they experience retaliation for protected activities under the Occupational Safety and Health Act or the Federal Railroad Safety Act.
Our agencies are available to help rail employers comply with all federal rules and regulations, work toward our shared goal to prevent injuries, and ensure the health and safety of workers and the public.
Learn more about OSHA, including how to contact us with questions about workplace safety or health or to file a complaint.
Learn more about the Federal Railroad Administration.
Doug Parker is the assistant secretary for occupational safety and health at the U.S. Department of Labor.
Amit Bose is the administrator for the Federal Railroad Administration.