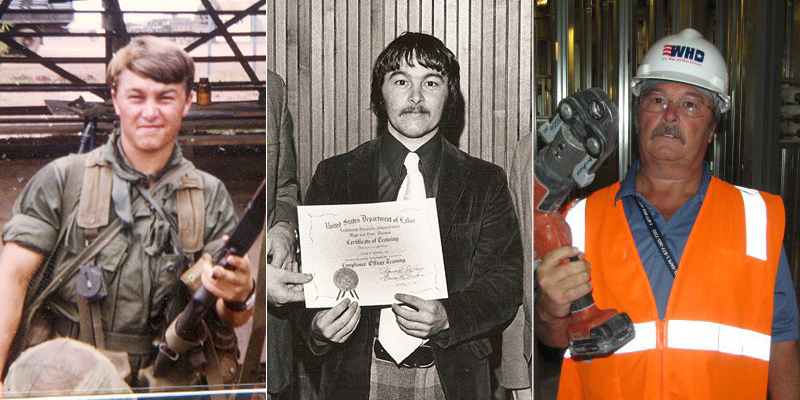 I started with the Wage and Hour Division in July 1975 at the Portland, Maine, District Office, and have served the agency in several positions and locations. Currently, I'm a senior investigator advisor for the Western Region and I have 47 years of employment with the division. Why have I stayed with the agency so long? Because I love my job and the agency's mission. This job will be difficult to leave when I retire because it is deeply satisfying to recover wages for employees who deserve and rely on them. In addition, as a veteran who suffers from post-traumatic stress disorder, my career has created opportunities for me to meet people who've helped me cope with PTSD. 
Before I joined the Wage and Hour Division, I served my country with four years of military service, including a tour in Vietnam, followed by college. My experience in Vietnam deeply impacted me, and the memories – both good and bad – stay with me to this day. The kind of trauma that some veterans experience after combat can sneak up on you, like it did for me after I left the military and started a family and a career. I really didn't think that I was going to have to deal with something like PTSD. But it affected every part of my life. It affected my work, my private life, my marriage…everything. My wife took the brunt of my anger in the first four years after my military service. We could've gotten divorced during that time. I felt that she deserved someone better than me, and I constantly pushed her away emotionally. I wouldn't accept the fact that she loved me. It felt like every time I took a step forward, I would take two steps back. 
I didn't give up, though there were times that I wanted to jump. I considered suicide, like many veterans. I just wanted to get off the mental merry-go-round of hypervigilance and anger. Killing myself seemed like a way to do that, but I had an encounter with what I believe was God one night and I never really considered suicide again. I realized I was loved by my wife, my children and my coworkers. I had an obligation to live, especially for those who had died in Vietnam. Today, I'm glad to have survived the Vietnam War and I've taken advantage of the opportunity to continue living. 
My relationships within the Wage and Hour Division have played a tremendous part in my well-being. The division is big on teamwork and family. As an employee, I need to feel like I can trust those who are in charge of me, like I trusted my military officers during my days in Vietnam. I've always had coworkers who I can communicate with and friends who try to understand me. It's not always easy for a veteran to let their guard down and tell someone what they think or how they're feeling. But I feel safe because my coworkers accept me for who I am, and they make me want to serve with them and fulfill the agency's mission as part of a team.
Although I've been able to acknowledge Veterans Day and Armed Forces Day in recent years, they were holidays I avoided for 20 years after returning from Vietnam. I couldn't deal with the survival guilt, and it was difficult to talk about how I felt. Now, I think of these holidays as opportunities to give a pat on the back to veterans and current members of the military. I'm not afraid to say, "Thank you for your service," no matter what day it is. I'm always appreciative when people take the opportunity to thank me for my service as well.
For non-veterans, my message is: If a veteran opens up and talks to you, take the time to listen. They may need to share something with someone who really hears what they have to say.
To my fellow veterans who may be struggling with PTSD or anger issues, my message is: You're not alone. People will help you if you open up and acknowledge that you need help. I encourage veterans to get the help that they need. It's out there. I was fortunate because I was willing to seek it – I went to counseling with anyone who would listen. Talking about my PTSD and connecting with people who I could cry with, if necessary, helped me feel safe. My close friends, including some coworkers, are like my armor. There is nothing I could say or do that would cause them to stop accepting me for who I am. Their patience and love have made the difference and helped me through the dark moments. I'll always be grateful for that.
Note: If you're a veteran or active service member in crisis, there is confidential, 24/7 support. Dial 988 then press 1 or text 838255. You can also chat online at veteranscrisisline.net. 
Learn more about opportunities with the Wage and Hour Division.
Learn more about how the Department of Labor is promoting mental health at work.
Seward Dinsmore is a regional senior investigator advisor with the U.S. Department of Labor's Wage and Hour Division office in San Francisco, California. Follow the division on LinkedIn and on Twitter at @WHD_DOL.