The Department of Labor celebrated Asian American, Native Hawaiian and Pacific Islander (AA and NHPI) Heritage Month by uplifting the voices of AA and NHPI workers during a recent in-person event at the Frances Perkins Building. I had the honor of moderating the panel discussion with union and worker leaders who shared the challenges that some AA and NHPI workers faced during the pandemic.
On the surface, AA and NHPI workers made astonishing recoveries from the pandemic. Their unemployment is comparable to the pre-pandemic rate and remains low, but for many AA and NHPI women and families the recovery is far from complete. The AA and NHPI workforce is diverse, yet perceptions of the needs and issues facing AA and NHPI workers have not changed despite recent reports showing AA and NHPI workers' labor market differences.
At the Department of Labor, we are working to empower all workers, including AA and NHPI workers, through policies that create and support good-quality jobs, improve working conditions, and raise awareness of worker rights. Engaging underserved communities accelerates the process of achieving sustainable economic security for all.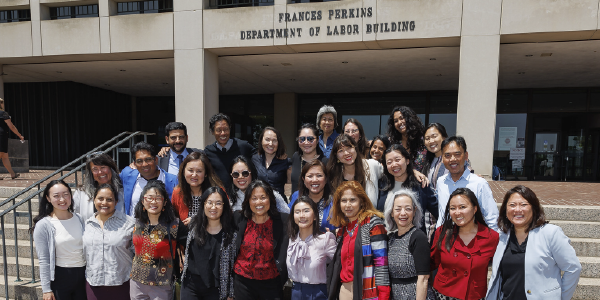 Our panel discussion highlighted these efforts and included how a person's multiple identities as someone who identifies as AA and NHPI, as a woman, as an immigrant, often intersect, increasing their marginalization at work. Panelists included Executive Director Alvina Yeh of the Asian Pacific American Labor Alliance, Senior Director of Policy Haeyoung Yoon of the National Domestic Workers Alliance, Eric Nguyen, banquet cook, of UNITE HERE Asian Pacific American Labor Alliance, nanny Uma Khanal of the Adhikaar National Domestic Workers Alliance, and homecare worker Sylvia Liang of Service Employees International Union Local 775.
Today's conversation dealt with the impact of AA and NHPI organizing on America's labor movement. We know that AA and NHPI women have led the way on many occasions in the past. Sue Ko Lee was a Chinese American labor organizer with the Chinese Ladies' Garment Workers' Association. She spoke against the poor work conditions and low wages, and used both English and Chinese to successfully organize the Dollar Store Strike in 1938. Now, leaders like Ai-jen Poo, Alvina Yeh, Luisa Blue and Velma Veloria are continuing efforts to support worker rights.
As we move forward, we need to hear from AA and NHPI women workers in order to build an inclusive workplace for all. Many women dropped out of the labor force during the pandemic due to remote schooling and disrupted childcare arrangements. Working mothers with lower levels of educational attainment suffered the greatest employment losses and experienced slower recovery. Women of color, especially immigrant women workers, are more likely to be employed in the domestic work or care sector. Workers in these sectors are less likely to know about basic labor rights and have access to the resources in their languages. It is critical that workers in these sectors have abundant access to information about their basic labor rights, including to resources in their languages.
This is why the Women's Bureau is taking steps to increase our efforts to protect care workers, especially those who are traditionally underrepresented so they can strengthen their voices.
To advance equity, justice and opportunity for AA and NHPI communities, we need to start centering the voices of AA and NHPI workers in the policy discussions to improve job safety, promote equitable access to resources and services through proper language assistance, and disaggregate data to better understand the impact of programs.
The White House Initiative on AA and NHPIs published the first-ever strategy to promote safety and equity for AA and NHPI communities in January 2023. Check out our agency plan and how we're committed to serving AA and NHPI communities.
Wendy Chun-Hoon is the director of the Women's Bureau. Follow the Women's Bureau on Twitter at @WB_DOL.