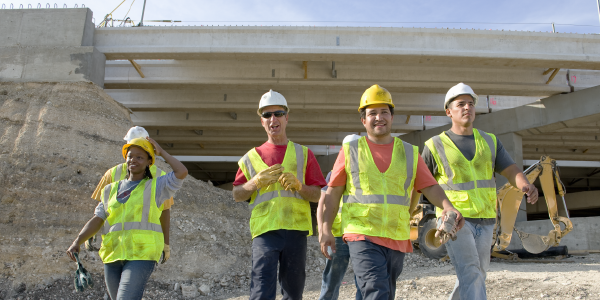 The federal government is making historic investments in infrastructure, which means investing in workers. A new rule will help ensure that construction workers on federally funded projects are fairly compensated – meaning more money to take home to their families and communities. Here's what you need to know.
Prevailing wages
The rule will update the Davis-Bacon and Related Acts, which aim to ensure that construction workers on federally funded (or assisted) construction projects are paid locally prevailing wages – and that the government's construction contracting activity doesn't have the unintended consequence of depressing workers' wages.
Better accuracy and efficiency
In the past, wage determinations weren't regularly updated and sometimes fell years behind actual wages. The new rule will help us calculate prevailing wages more regularly, accurately and efficiently. Some prevailing wage rates will update periodically to avoid becoming outdated. A more efficient survey process facilitated by the final rule means frequent Davis-Bacon wage surveys, ensuring that workers on federal jobs don't have to wait 10 years for their wages to be updated to the locally prevailing rate. The rule also recognizes that the Wage and Hour Division has the authority to adopt state or local wage determinations as the federal prevailing wage under certain criteria.
Updated definitions
Updated definitions will improve clarity. The rule will return to the definition of "prevailing wage" used from 1935 to 1983, to ensure prevailing wages more often reflect actual wages. It also updates the definition of "building or work" to include 21th century projects like energy infrastructure and clarifies that truck drivers and other worksite principles are covered.
Stronger worker protections
The final rule includes debarment and new anti-retaliation provisions, meaning more enforcement options and stronger protections of worker rights.
Strengthening and streamlining the wage determination process will ensure wages paid to workers on federally funded construction projects better reflect the realities of today's labor market. When employers compete on equal footing, it benefits construction workers, their families, their communities and taxpayers.
Davis-Bacon Act regulations are as important as they've ever been, and this new rule will ensure that they address the modern workforce as we make unprecedented investments in America's roads, bridges, federal buildings and energy infrastructure. As these projects open up opportunities around the nation, we're ensuring that they're creating good jobs with fair compensation and safe conditions.
Jessica Looman is the principal deputy administrator for the Department of Labor's Wage and Hour Division. Follow the division on Twitter at @WHD_DOL and LinkedIn.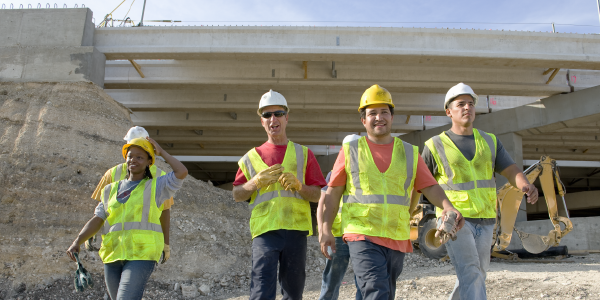 El gobierno federal está haciendo inversiones históricas en infraestructura, lo que significa invertir en los trabajadores. Una nueva regla ayudará a asegurar que los trabajadores de la construcción en proyectos financiados por el gobierno federal sean compensados de manera justa, lo que significa más dinero para llevar a sus familias y comunidades. Esto es lo que necesitas saber.
Salarios prevalecientes
La regla actualizará la Ley Davis-Bacon y Leyes Relacionadas, que tienen como objetivo garantizar que los trabajadores de la construcción en proyectos de construcción financiados con fondos federales (o asistidos) reciban salarios prevalecientes localmente, y que la actividad de contratación de construcción del gobierno no tenga la consecuencia involuntaria de deprimir los salarios de los trabajadores.
Mejor precisión y eficiencia
En el pasado, las determinaciones salariales no se actualizaban regularmente y, a veces, se retrasaban años con respecto a los salarios reales. La nueva regla nos ayudará a calcular los salarios prevalecientes de manera más regular, precisa y eficiente. Algunas tasas salariales prevalecientes se actualizarán periódicamente para evitar quedar obsoletas. Un proceso de encuesta más eficiente facilitado por la regla final significa encuestas salariales frecuentes de Davis-Bacon, asegurando que los trabajadores en empleos federales no tengan que esperar 10 años para que sus salarios se actualicen a la fecha anterior.
Definiciones actualizadas
Las definiciones actualizadas mejorarán la claridad. La regla volverá a la definición de "salario prevaleciente" utilizada de 1935 a 1983, para garantizar que los salarios prevalecientes reflejen con mayor frecuencia los salarios reales. También actualiza la definición de "edificio u obra" para incluir proyectos del siglo 21 como la infraestructura energética y aclara que los conductores de camiones y otros principios del lugar de trabajo están cubiertos.
Protecciones más sólidas para los trabajadores
La regla final incluye la inhabilitación y nuevas disposiciones contra represalias, lo que significa más opciones de aplicación y protecciones más fuertes de los derechos de los trabajadores.
Fortalecer y racionalizar el proceso de determinación de salarios garantizará que los salarios pagados a los trabajadores en proyectos de construcción financiados con fondos federales reflejen mejor las realidades del mercado laboral actual. Cuando los empleadores compiten en igualdad de condiciones, beneficia a los trabajadores de la construcción, sus familias, sus comunidades y los contribuyentes.
Las regulaciones de la Ley Davis-Bacon son tan importantes como siempre lo han sido, y esta nueva regla asegurará que aborden la fuerza laboral moderna a medida que realizamos inversiones sin precedentes en carreteras, puentes, edificios federales e infraestructura energética de Estados Unidos. A medida que estos proyectos abren oportunidades en todo el país, nos aseguramos de que estén creando buenos empleos con una compensación justa y condiciones seguras.
Jessica Looman es la administradora adjunta principal de la División de Horas y Salarios del Departamento de Trabajo. Siga a la división en Twitter en @WHD_DOL y LinkedIn.