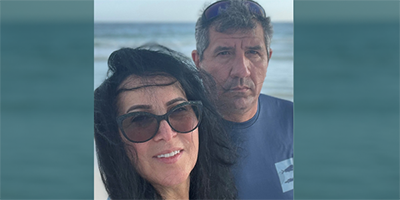 Natural disasters create serious challenges for workers and employers, as well as agencies like the Wage and Hour Division that are charged with ensuring workplace protections continue even after a disaster. 
In October 2018, Hurricane Michael ripped through the panhandle of Florida and killed dozens of people, damaged thousands of homes and businesses and caused billions of dollars in damage. Countless workers' and employers' lives were disrupted, while others found opportunities in the debris removal, repair and reconstruction jobs that were part of the recovery effort. 
Two Florida workers, Grissel Ortiz González and her husband, Lázaro Antonio Rodríguez Rodríguez, began installing drywall as part of a federally funded project to rebuild a Tyndall Air Force Base hangar. The prevailing wages on this project offered workers a small glimmer of hope during an otherwise devastating period – or they could have if the employer had followed the law. 
Our investigation of that project found that Advance Drywall Services LLC failed to pay required overtime wages in violation of the Contract Work Hours and Safety Standards Act and also failed to provide holiday and vacation pay to workers, a violation of the Davis-Bacon Act. In all, the division recovered more than $22,500 in back wages for 17 workers because of the violations. Grissel and Lázaro received $1,786. 
"The back wages went far in helping us with bills, groceries and rent," Grissel said. 
In the aftermath of Hurricane Michael, we're confident that the recovery of those hard-earned wages couldn't have come at a better time for each of the 17 workers. 
As we observe Disaster Preparedness Month, we encourage workers and employers to learn about their rights and responsibilities before and after natural disasters. Whether you're in an area prone to hurricanes, wildfires or another type of disaster, our website offers a compliance assistance toolkit, resources on government contract compliance and much more to address your concerns. Of course, we're also available to answer questions confidentially at 866-4US-WAGE (487-9243), and we have outreach specialists available throughout the country to educate their communities on worker protections before and after a disaster strikes.