Read this blog post in: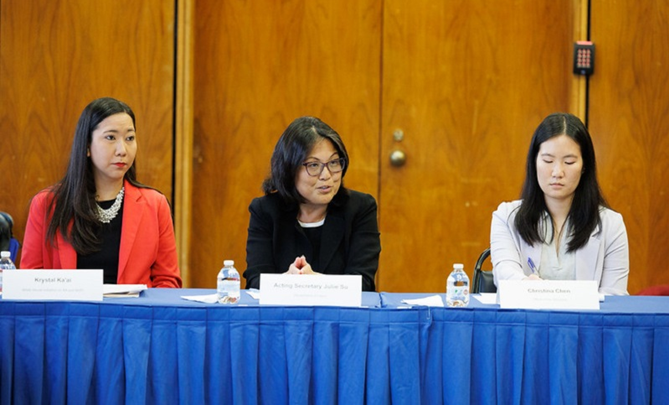 Like many immigrants, my parents came to the United States because of their deep belief in the promise of America: that if you work hard and play by the rules, you'll have the opportunity to build a good life. Today, as the acting secretary of labor, I carry the courage and resilience of those who cross oceans and continents for a better life with me every day.
My mom's journey here began with a 30-day voyage on a cargo ship because she couldn't afford a passenger ticket. For years after they first arrived here, my parents worked minimum wage jobs.
Then, when I was six years old, my mom got a job working for Los Angeles County as an office clerk – a good union job with predictable hours, a secure income, a pension and health benefits. That union job gave our family a path to the middle class and a shot at the American Dream.
I know many families are still shut out of that dream.
That's why I recently hosted a roundtable with community leaders and the White House Initiative on Asian Americans, Native Hawaiians and Pacific Islanders on how we can work together to better protect and empower Asian American, Native Hawaiian and Pacific Islander (AA and NHPI) workers, and open up opportunities to good jobs. We also know that AA and NHPI-owned businesses are a critical part of our economy and make up a significant proportion of small businesses – and they're relying on us to enforce labor laws to create a level playing field for them.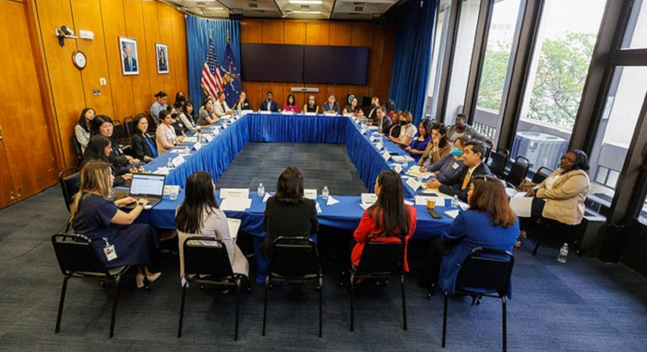 At the Department of Labor, we're fighting for AA and NHPI workers and families, and ensuring that they have a seat at the table and that their voices are heard. Here are just a few actions we've taken: 
Outreach on worker health and safety, and the right to minimum wage and overtime. Working with organizations trusted in these communities to better reach them, to learn about violations and to provide compliance assistance to employers. 
Investing in America by investing in ALL of America's workers. Investing in workforce training programs to connect all workers to good jobs in their communities, including AA and NHPI workers. 
Reaching workers in the languages in they speak, and in the communities where they live and work. Providing in-language materials so we can better communicate with AA and NHPI workers about the Labor Department resources available to them. For example, we translated our Know Your Rights flyer into 19 languages, including Chinese, Hmong, Japanese, Korean, Tagalog, Thai and Vietnamese. 
Granular data on communities and subgroups within the larger AA and NHPI community. Being responsive to disaggregated data is a key part of achieving a more equitable economy and telling a more comprehensive story about the issues facing our diverse communities.
I am grateful to the community leaders and organizations who came to share their expertise and knowledge. Throughout my life, I have seen firsthand how good jobs change lives.
We will continue to work to bring the promise of America into reach for all AA and NHPI workers and families.
Julie Su is the acting secretary of labor. Follow her on Twitter/X, Facebook, Instagram and LinkedIn.